Disclaimer: We may receive a commission if you make a purchase through links on our website.
We get compensation for qualifying orders as an Amazon Associate.
---
Are you looking for the best golf gloves for women? Check out our list that includes the five best options available in the market.
---
---
A golf glove, whether for men or women, should fit perfectly—not too tight and obviously, not too loose. If you're an avid golfer, you must know how even the smallest detail matters. Anything can put your mind off, and consequently, your game suffers.
So, you must find a glove that is comfortable, flexible, breathable and, most importantly, provides a good grip.
And when the women's golf gloves are in question, some extra details also add up—color options, style, aesthetics, and so on. It is a fashionable accessory, and it must look attractive.
So, to save you from a long process of trying and rejecting until you find the best glove for yourself, we have researched the market and narrowed the available choices to the five best quality golf gloves for women you can choose from.
We will review all the options in detail and will also discuss pros related to each glove. Let's dig deeper!
Best Golf Gloves for Women – Reviews
FootJoy Contour FLX

FootJoy Contour FLX is a leather-based glove with simple aesthetics and a beautiful outlook.
Its palm is manufactured using high-quality CabrettaSof leather that provides a delicate feeling of a premium golf glove.
You'll also notice perforations on the fingers. These perforations are meant to drain moisture out of the glove.
And to further enhance the breathability, the back is made with a lighter FiberSof material, and the cuff is made with soft wicking material with the FJ logo printed at the palm side.
You'll also find a PowerNet slot covered with mesh across the knuckle that stretches when you close your hand. It is finer and makes the glove extra breathable.
And for a precise fit and stress-free comfort, the patented FootJoy's usual 3-directional ComforTab Velcro closure is carefully positioned at the back of the glove.
All these features combined ensure the glove fits nicely and your hand does not go all sweaty and irritating on hotter days.
Overall, this glove provides value and is indeed worth the money.
Gone are the days when you had only one color/style choice for your golf glove.
With the introduction of GFORE Gloves by Mossimo Giannulli in the market, you can now enjoy more fun and flair with your colors and style options.
However, GFORE is not just about fancy colors or aesthetics. There is a lot more to its functionality.
This glove is made up of Grade-A-A Cabretta leather that gives it a soft and smooth feel.
Also, after the rigorous testing on the golf course, it can easily be concluded that GFORE is more long-lasting than 90% of the golf gloves out there.
Moreover, GFORE Collection gloves come with four different solid-color choices—Azure, Charcoal, Fly, and Clover.
Overall, you'll love the way these gloves fit. They perform very well in humid weather and definitely last way more than the usual $20 gloves.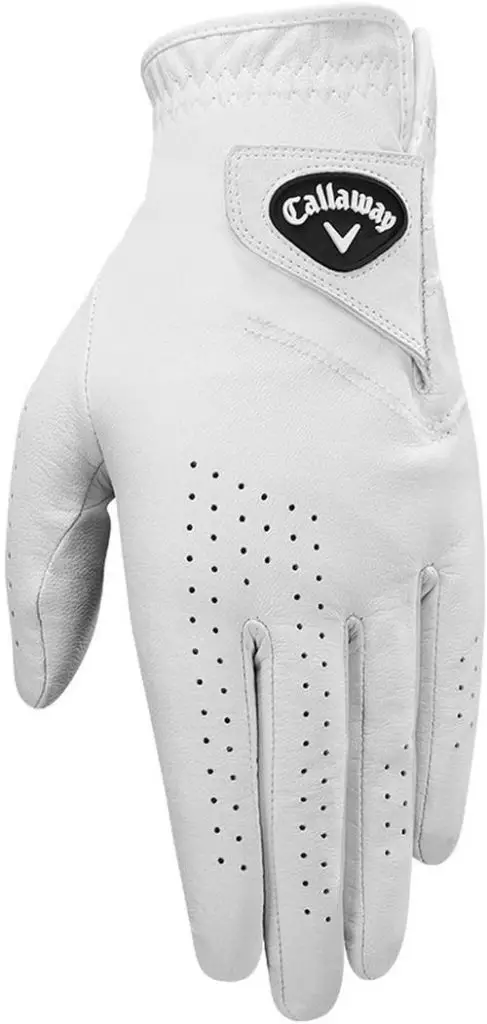 For an economical option, Callaway Dawn Patrol is better than many other options available in the market.
Yes, you'll not get the premium feel of Cabretta leather, but if your requirement is just durability and good performance, Dawn Patrol will not disappoint you.
So, let's talk about the particulars of this glove. Dawn Patrol has a perforated palm, fingers, and even thumb. So, even on hotter days, your glove will be breathable enough.
When you leave the glove on between shots or have sweaty palms, those perforations come in useful. Holding the palm out to the breeze allows the hand to cool off quickly.
Apart from that, the fit of the fingers is good, and an elastic band across the backhand offers the needed flex.
Overall, you won't find much to complain about with the Dawn Patrol unless you're used to wearing a pricey Cabretta glove.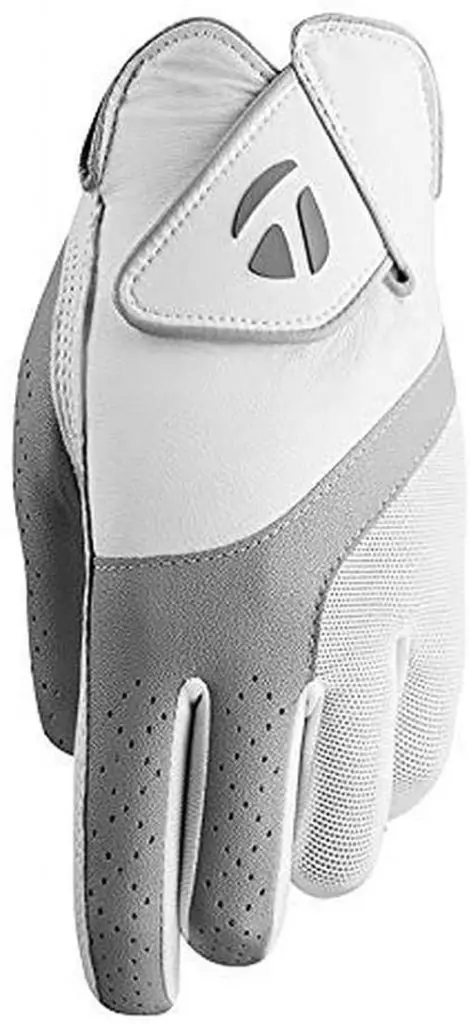 TaylorMade Kalea is the kind of glove that professionals like to put on during their weekend games.
It is manufactured using premium AAA Cabretta Soft Tech Leather and 4-way stretchable nylon material for increased airflow, elite feel, beautiful aesthetics, and flawless grip.
The ultra-thin construction gives it a real soft feel, and strategically spread perforations along with the fingers really help in reducing moisture and enhance breathability.
There is a beautiful cut around the wrist too. The length of the glove on the palm side is more than enough to prevent the club from rubbing.
Overall, TaylorMade Kalea is a stylish ladies glove with super soft leather. It holds up nice and will last enough time. Indeed worth buying!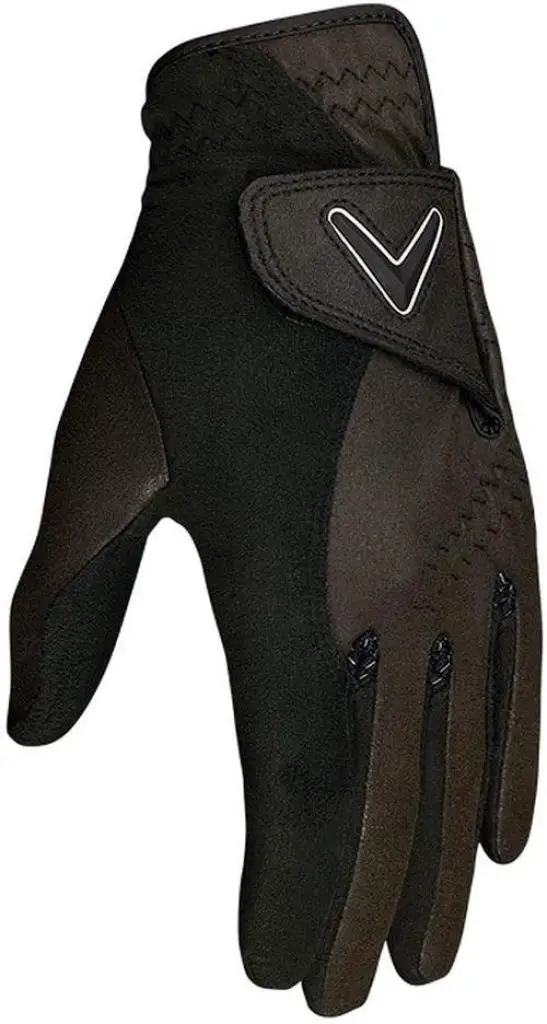 As the name is self-explanatory, Opti Grip Storm Gloves are specially designed to provide optimum grip on rainy days.
When other gloves start losing grip after getting wet, this glove starts developing more and more grip with the increase in moisture.
All the credits goes to the combination of three premium materials that are used in manufacturing this glove—Microfiber SuedeTM, Opti FlexTM, and X-SpannTM.
The microfiber suede forms palm and thumb patches. This material is known to provide extra grip when it comes in touch with moisture.
Opti Flex material gives this glove its due flexibility, optimum fit, and ecstatic feel.
X-Spann material is present between the fingers. It is moisture-wicking and enhances breathability.
Overall, with its adjustable closure, thin construction, and fantastic grip in wet conditions, this ladies glove can be an excellent choice to keep for rainy days in your bag.
Conclusion
While there were plenty of ladies' gloves to choose from, we only included ones that have already been tested, verified, and endorsed by professional golfers.
However, don't think whatever is working for pro players will work for you too. It is a subjective choice, and choosing the best glove will solely depend on your preferences.
As far as our suggestions are concerned, FootJoy Contour FLX Womens' Glove is indeed power-packed with incredible features and has been loved by many avid golfers.
Callaway Opti Grip Storm Ladies Glove works best in wet conditions. So, it would be best if you keep it in your bag in case the weather gets crazy.