When it's about golf tools, there's this one equipment which people don't pay much heed to but is surely a game-changer when used with proper selection. Yes, it's none other than golf gloves.
Most professionals might not feel the need to wear golf gloves all the time, but still, wearing them can bring a positive change in your game results. Hence making it a must golf accessory for almost every golfer.
In golf, one of the fundamentals is your grip on the club, and this is where golf clubs help. They help you maintain a firm grip on the club particularly on hot summer days when your hands get sweaty.
Apart from the hot weather and sweat issues, the probability of rain is another important thing you must keep in your mind, so you shouldn't forget to keep a pair of gloves in your golf kit. You'd not regret it!
If you practice a lot or spend more time on the field then you are more likely going to get prone to blisters. That's where getting a pair becomes even more crucial to save you from the roughness of the shaft and grip.
Moreover, you also need to pay attention to the material or fabric of the gloves. Whether you get leather gloves or synthetic ones, the services they offer are almost the same.
Leather gloves are comfortable and long-lasting, whereas the grip that synthetic gloves offer is much more promising. Let me fill you in with a major tip; always make sure to try one on before buying you but it.
How the gloves fit your hands is also a matter of consideration. Neither do you need a pair that's too loose that it defeats its purpose, nor do you want a tight one that you end up ripping. You need an exact match.
At the same time, there are tens of brands that are offering various kinds of gloves, how would you know which brand you can trust for your golfing needs?
With all these requirements and questions in our minds and a never-ending number of brands and options available to us, it is imperative to know what brands are the best when it comes to offering golf gloves.
In this article, we are about to enlighten you about the 5 best golf gloves that are going to be a total game-changer for you, once used suitably. So let's dig in.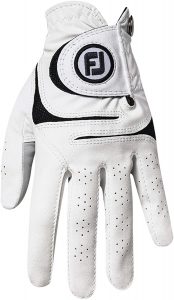 Based in Massachusetts, Footjoy is a renowned golf clothing company that was established in 1857. Later on, in 1985 it was owned by Acushnet Company.
Presently, it is said to be among the best few sellers of golf goods in the United States, including athletic shoes, golf gloves, clothing, and other equipment.
So, if you are looking for the best-selling golf glove, these Footjoy Men's Weathersof Glove can be your new best friend. They are made out of the best synthetic material to guarantee optimistic durability.
The leather thumb and palm patch of these gloves assure an excellent grasp on the club and at the same time give you a soft touch as they are made out of premium quality materials.
Apart from the material, they seem to fit very well, just like a second skin which is exactly how golf gloves are supposed to be. These gloves prevent your hands from getting too damp and sweaty during the game.
Talking about the fit of the gloves, the grip of the glove is fairly good giving fair room to your hand to be moved easily. At the same time, there is no extra fabric forming when you open and close your hand.
If you are a regular player, these Footjoy gloves can stand up to both sweat and rain. Footjoy Weathersof Gloves offer enough flexibility to fit right into your hands and are just beyond perfect.
The soft Power-net mesh material around the knuckle area boosts flexibility and breathability. Also, it will prevent your hands from getting bristles, illustrating how it has earned its name well.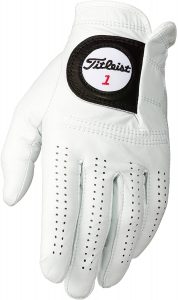 Titleist is another American brand of Acushnet's Company, which deals in golf appliances and is committed to providing superior performance and quality products. It was established by Philip. E Young in 1932.
Titleist strives to provide the best quality golf equipment, with golf balls and clubs as their main products. The brand has gained the trust of many renowned golf players across the world.
Our second product in this listing is Titleist Men's Players Golf Glove. Being white they come with an integrated cool panel formed across the knuckles, allowing easy movement and ensuring breathability.
With moisture-resistant fabric to ensure that your hands don't get soaked when it rains or sweat in case of hot weather, these gloves are bent upon providing a comfortable fit to your hands for smoother movement.
Titleist Men's Player Golf Gloves are one of the best golf gloves of 2021 for several reasons. The soft leather aids in keeping a firm grip on your club as well as when you are carrying your golf kit or bag.
With their beautiful and classic white colour, these gloves can be used by both male and female golfers and remains as one of the popular the choice of many leading professionals.
As the gloves come with extra thin technology, it is easier to stay connected to the club, offering good flexibility. Also, the closure fit technology assigns this glove an excellent fit.
One can't lay enough importance on the material used in the making of the gloves. It not only makes them breathable but immune to sweat and dampness.
So whether you are a beginner or a veteran golfer, this Titleist Men's Players Golf Glove can definitely be a choice that you would not regret.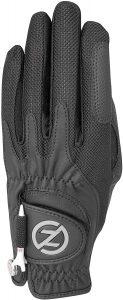 Zero Friction is a renowned and reputable company that deals with golf products and accessories. To deliver top-notch quality products with creative technological developments has been a driver of the company.
In 2005, the Zero Friction Performance Tee was initiated out of Excel Golf Products Inc., that's when the unusual thought of making a golf tee an important element of the game was presented by Excel Golf.
Zero Friction Ladies Compression Fit Synthetic Golf Glove is one of the most popular products which is specially designed for female golfers, including a variety of colors to cater to a wider audience.
If you're not a fan of leather products then this glove is just what you need to get your hands on as it is made from high-quality synthetic material, offering soft touch to your hands while helping you excel.
It feels better when you put it on and even better when you hold your club. This glove tends to fit any size hand and comes with a digitized ball and a Zero Friction performance tee and ball marker.
Another most interesting feature of this glove is that it entails Compression-Fit technology. In simpler words, it harmonizes well to the size of your hands.
The glove also includes a palm patch just to help you keep a solid grip on the golf club and to make you play more comfortably. The bonus of a short tee without having to dig for one makes it everybody's first choice.
This Zero Friction glove comes in a variety of vibrant colors, so you can pick out your favorite one easily, one that suits your mood or your tastes.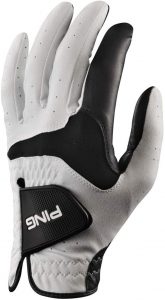 Based in Phoenix, Arizona, Ping is a sports equipment manufacturing company that was established 62 years ago in 1967 by Karsten Solheim. Ping clubs are recommended from mediocre to high handicapper.
The company has been known for never compromising on the quality of the products it offers. Their products comprise golf clubs, club bags, headwear, gloves, travel gear, and other golf accessories.
Our fourth product in this listing is 'Ping Golf MLH Sport Glove'
Talking about the outlook of the glove, its build quality is pretty cool. The mesh across the knuckles makes it very breathable and soft.
The seams are nice and tight, helping the glove adjust to the size of your hands. Although it's a leather glove the touch it offers is very soft and can be used in any season.
Talking about the quality, it's well made and is very durable and holds up nice. The glove gives a comfortable grip and ensures a smooth connection with the club, ensuring a soothing experience.
Ping Golf MLH Sport Glove has a very fashionable and attractive outlook. It comes in a two-tone, black and white, exhibiting a unique yet impressive outlook.
If you're looking for something trendy yet affordable, this glove is your go-to as it offers much for its price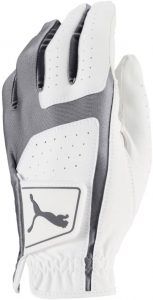 Puma is considered to be the world's third-largest sportswear manufacturer. Recognized for its outstanding quality supplements, Puma tends to design athletic footwear, sportswear, and accessories.
Initially, there were two brothers named Rudolf Dassler and Adolf Dassler who formed a joint company in 1924, under the name of 'Dassler Brothers Shoe Company' later parting their ways in 1924.
Following their split, the two brothers decided to run their own companies, under the name of Adidas and Puma. Which would, later on, emerge as the world's largest sportswear company.
Our fifth and last product in the listing is Puma Golf 2018 Flexlite Glove. It's a very well-known product for its extraordinary quality. It is made out of 52% polyester, 42% polyurethane, and 6% Spandex
This Puma Flexlite glove is very light in weight and can be moved around easily. By fitting perfectly in your hands this glove allows you to have a strong grip on the club, granting a comforting feel.
Puma Golf Glove is enriched with 4-way stretch lycra offering optimistic durability. Being breathable, this glove is ideal for humid playing conditions and helps in resisting sweaty hands.
Because of the blend of materials, it's made out of, this glove is much thinner and lighter than other traditional leather gloves and feels better than leather, making it a worthy purchase.
Final Verdict
We know you came here to know more about golf gloves and to help you make the right choice when buying your next golf accessory.
That is why, In this article, we have highlighted the amazing qualities and features of the best golf gloves in 2021, to give you an idea about which golf glove to go for, in case you are looking for one.
If we look into the features of our first product, the Footjoy Men's Weathersof Gloves, the synthetic material it is made of seems to be promising about how long they would work in the long run.
At the same time, Titleist also seems to have earned the trust of many well reputable and renowned golf players because of the impressive quality of golf equipment it offers, earning second on our list.
The soft leather of the Titleist gloves provides a firm grip on the shaft and comes to your aid on any rainy day, plus it also has a sweat-resistant feature which makes it more favorable.
It also entails closure fit technology, thus providing a firm grip. And last but not least, this product can be equally used by beginners and pro golfers, respectively.
The gloves that ranked third in our list is Zero Friction Ladies Compression Fit Synthetic Golf Glove. It is specifically designed for female golfers, hence comes in a variety of vibrant colors.
If we look into the features of these gloves, they are made out of great quality synthetic material, providing a soft touch to your hands. With its compression-fit technology, it tends to fit well in your hands as well.
The white mesh lycra enables breathability and because of its leather palm patch, it can be used for a longer period. They also come with a detachable tee and ball marker which are surely a game-changer.
Apart from all these factors, the finest materials used in Ping Golf MLH Speed Glove justified being put on the list of these 5 best golf gloves, as a quality that lasts is always welcome.
The looks of the Ping Golf Glove remain catchy with its black and white color tone and grabs well-deserved attention. Now if we talk about the features of this glove, it's made of leather yet feels soft to the hands.
Despite being made of leather, these Ping gloves can be used in any season since they are pretty much lightweight. The build quality of the gloves adds another five stars to its outlook.
And finally, the last product on our list, but not the least, is Puma Golf 2018 Flexlite Glove. The gloves are a mixture of great materials coupled with time-tested durability.
These Puma Gloves are light in weight and can be adjusted easily to the size of your hands, fitting almost like a second skin. The fact that it's so lightweight makes it way more favorable than other traditional gloves.
Despite all these amazing qualities that this glove entails, it's still light on the pocket, affordable, and easily available across most sports accessories stores, making it the talk of the town.
In our eyes, the Ping Golf MLH Sport Glove is the best of the 5 gloves we discussed above for its catch looks and impressive features that come with a budget, earning its place in your golf kits. Happy Golfing!