Are you searching for a sports watch that is flexible, lightweight, and functional? If you're a golf enthusiast looking for a way to enhance your game, then look no further. The Garmin Approach S10 is the right GPS golf watch to look out for.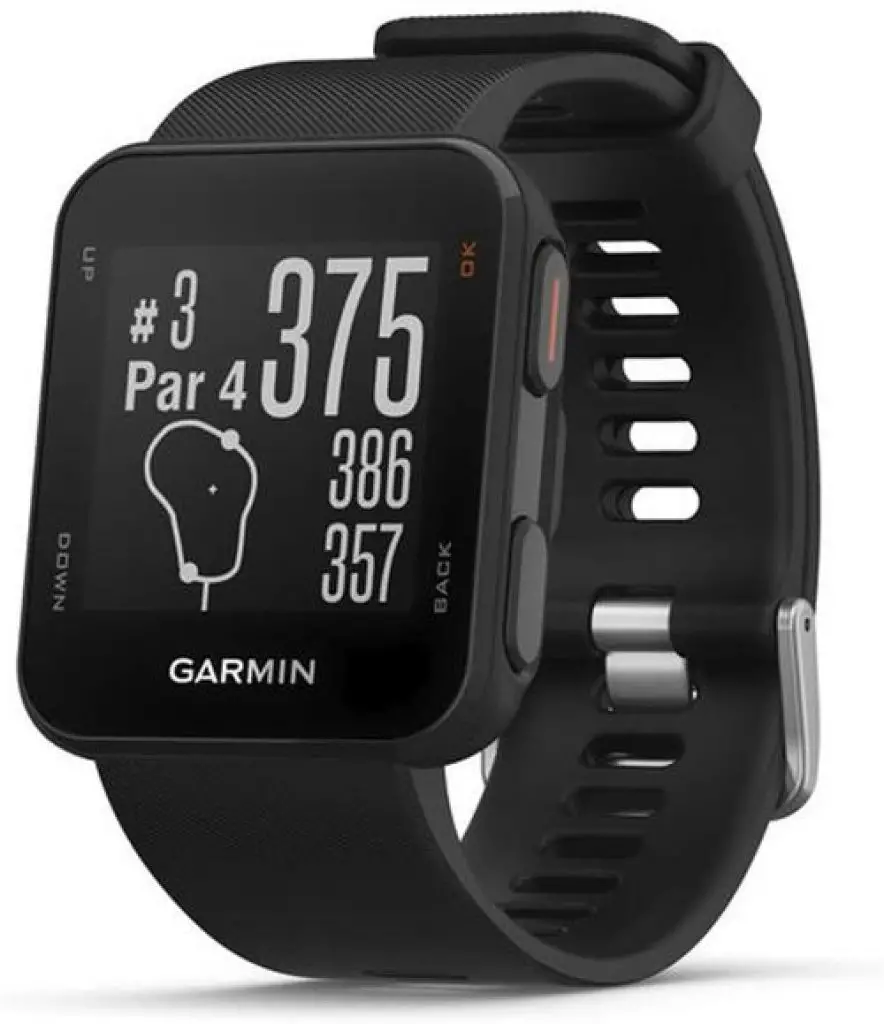 The Garmin Approach S10 is built for golf lovers who like to track their distance from the shot and measures the distance in the field.
It has a simple, sports design and is loaded with functions that will appeal to golf enthusiasts.
Garmin Approach S10 provides users with close, long, and medium distances points on putting the green in relation to the position of the player. While the owner twists his wrist, all of the information is immediately accessible. The watch has the capacity to measure the distances of the shots.
Users of this watch don't have to change their watches as often because they may be used as everyday watches anytime they wish. The watch includes an alarm function and is powered by a rechargeable lithium-ion battery. It also has a feature that automatically adjusts the time to the time zone.
This watch, unlike other golf watches, comes with programmed golf courses from all over the world. As a result, users will not be charged any additional fees for subsequent subscriptions. Users, on the other hand, do not need to complete any setup processes, which saves effort and time.
Users can download and load course information for other territories, such as Canada, for free.
This is your golf watch if you want to concentrate on the course and your game. The simple-to-use Garmin Approach S10 automatically picks the course you're playing based on your location from over 41,000 preloaded courses around the world with free unlimited upgrades.
The yardages to the center, back, and front of the Green, as well as doglegs and hazards, are then provided. As you go from the Green to the next Tee box after finishing a hole, it automatically switches to the following hole. You can even calculate the distance for bragging rights if you truly crush one.
Garmin Approach S10 Golf Watch Review
The Garmin Approach S10 isn't only a golf watch; it's also a standard watch that tells the time and has an alarm function. For a game recap, you can keep score on your watch.
When used as a standard watch, the lithium-ion rechargeable battery can last for 14 weeks, and in GPS mode, it can sustain for 12 hours, providing long-term usage for golfing tours.
If you don't enjoy wasting time on setup, the Garmin Approach S10 will wow you because it requires no configuration.
It also can adjust the time for itself based on the user's current location and time zone. Unlike some other watches, this one is ready to wear pretty quickly.
If you want an expensive and intelligent watch, this is one of the best GPS watches available.
Highlighted Features
| | |
| --- | --- |
| GPS | GPS Golf Watch is simple and easy to use. |
| Display | A high-resolution, comfortable, and sleek with lightweight, sunlight-readable display. |
| Preloaded courses | On almost 41,000 preloaded courses across the world, it provides yardages to the middle, back, and front of the green, as well as doglegs and hazards. |
| Get some stats | Keep the score on the clock to get an overview of your game, total distance played, and total time |
| Garmin Express | Transfer your scorecards to Garmin Express to track the number of rounds |
| Golf Mode | In golf mode with GPS, the rechargeable battery lasts up to 12 hours |
How does this perform?
Improve Your Game
Hit a speed experience. Swing a few balls around in your yard. In the workplace, practice your putting shots. There are several ways to enhance your golf game. Why not enlist the assistance of technology as well?

The Garmin's Approach S10 gives you all the data you needed immediately on your wrist so you can properly decide your upcoming shot.

Garmin's professional assistance is available on nearly every course, thanks to over 41,000 preloaded foreign courses. Garmin's website provides immediate access to fresh course update downloads.
Know The Distance
It doesn't matter whether you make fantastic contact with the ball if you miss the green by 20 yards or fly over it. The Garmin Approach S10 GPS includes yardage for layups and doglegs, as well as distances to the center, back, and front of the green. Garmin Approach S10 will record the distance when you really get a hold of a shot, so you'll have bragging rights at the 19th hole.

The Garmin Approach S10 provides this data with clear, easy-to-read numbers that are visible even in direct sunlight. And you don't have to worry about running out of power in the 18th hole, the built-in rechargeable Garmin Approach S10 battery provides up to 12 hours of battery life in GPS mode or 14 weeks with a normal watch.
Keep Score And More
Users can store the result on their watch instead of looking for a note and a pen. Users will receive a report containing their score, total time, and distance played at the end of the game. It also shows the times of sunrise and sunset, which is useful if you want to go for a trip after work.

You can use Garmin Express to download results and keep track of your progress throughout the season. Do you want competition? Use the free Garmin Golf app to participate in weekly tournaments and top rankings.
Conclusion
The Garmin Approach S10 is a straightforward golf watch aimed towards first-time golfers who want to use it for other purposes as well. The watch contains clear features and functions that allow users to concentrate more on the game rather than on gathering data.
Because the watch is preloaded with course facts right out of the box, there is no need for any kind of setup or download. The course details can be downloaded and loaded as needed by users all over the world. When in GPS mode, the lithium-ion battery can last 12 hours and 14 weeks.
The Garmin Approach S10's odometer maintains track of how long you've walked, and the GPS provides yardage information for the middle, far, and near of the green.
On a 1-inch monochrome panel, all of the data is displayed precisely. While it is a full-featured sport watch, it is also exceptionally flexible and light, as well as waterproof (IPX7).