Looking for the best golf putters? Check out our list that includes putters, recommended by experts.
Golf demands constant and unwavering change and improvement, striving to become better every coming day. Just like the sport, true golfers are driven to improve and outperform themselves every day too.
It is not easy, however, to manage to find a weakness to improve every day or learning new skills that may be required. This question had haunted both professionals and amateurs alike.
At such a point, one may come to realize that the equipment they are using can be a hindrance to progress too. Are you using the right equipment, the one that suits your playstyle and needs?
With the advent of hundreds of brands offering thousands of golf equipment, golf is rapidly changing, becoming better and effective with each tool and gadget that arrives on the market.
Today, this article is going to cover one of the most important aspects of golf, putting. Whether it's a professional golfer or an amateur player, everyone must deliver a fine putt to stay at the top of the ranks.
Finding the right putter can not only save you countless shots but puts you ahead of your competitors as well. It should suit your playstyle and provide a perfect feel and roll.
However, there is a wide range of options available depending on the budget, the capabilities, the looks, and the feel of the golf putter you are looking for.
Now, at this point, you are probably wondering that from tens of brands, which one should you choose for yourself?
And that is why, in this article, we are about to enlighten you about the 5 best golf putters that would allow you to become a better golfer.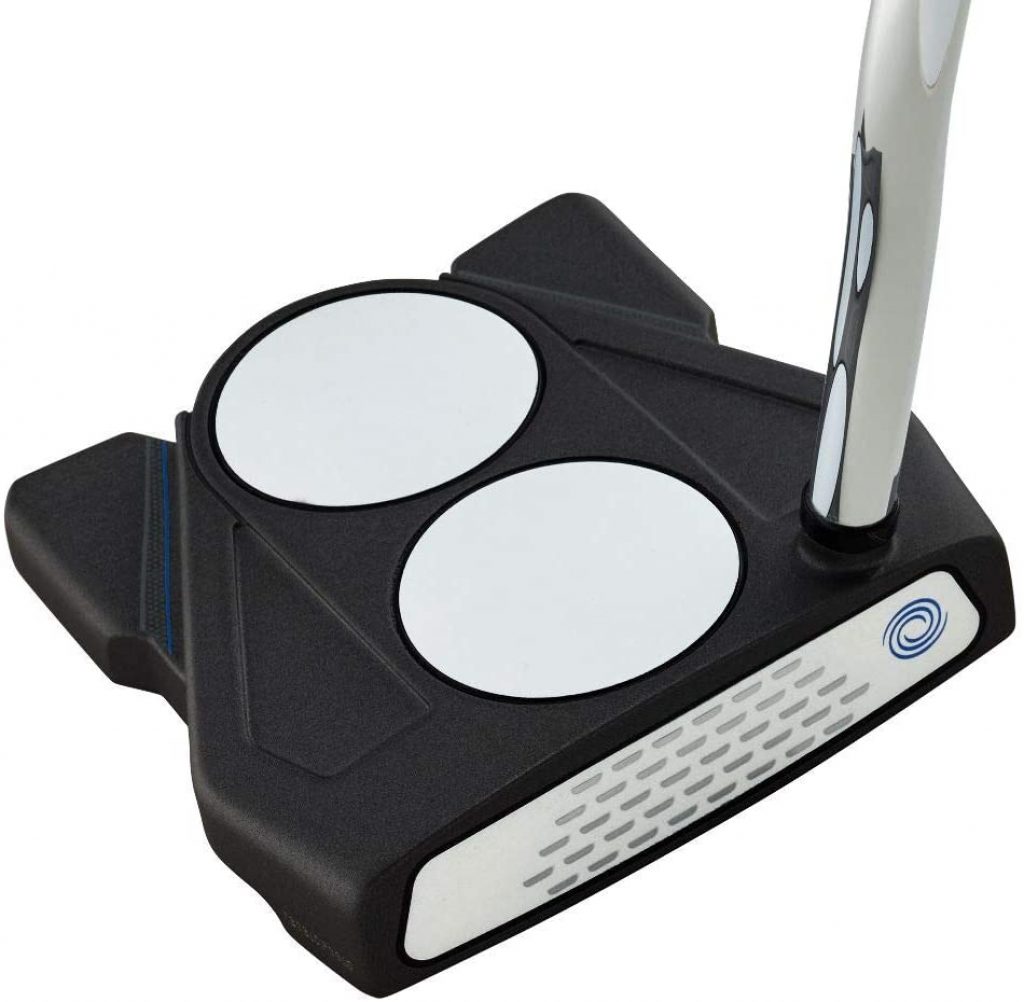 Shop now on amazon
$259.95 on

The secret to a great putt rests in the ability to play a good swing as it would ultimately affect how well your shot goes. In such a situation, amateurs can find it tricky to align their shots.
With the Odyssey Golf 2021 Ten Putter, this problem is easily solved and all a golfer needs to do is swing as it entails a number of useful alignment tools to deliver the ideal shot.
At the same time, it ensures that the ball is lined up correctly and you're hitting the right face at the point of impact, something that people who often push or pull their putts can find incredibly useful.
It also keeps a solid and consistent performance with a great forgiving, ensuring that your mishits don't go too punished when you overdo your shots, making it an ideal choice for newer players as well.
As a whole, due to its alignment tools, while many amateurs might enjoy it, people who're looking for the apparel and feel might not find themselves too at home with the design.
Despite the steep price tag, it is a purchase that's worth it, especially if you are serious about improving your gameplay by a huge margin.
Positive
Incredibly easy to line up and use
Stable and consistent
Negatives
Comes with a steep price tag
Not too effective with arced strokes
TaylorMade Spider EX Putter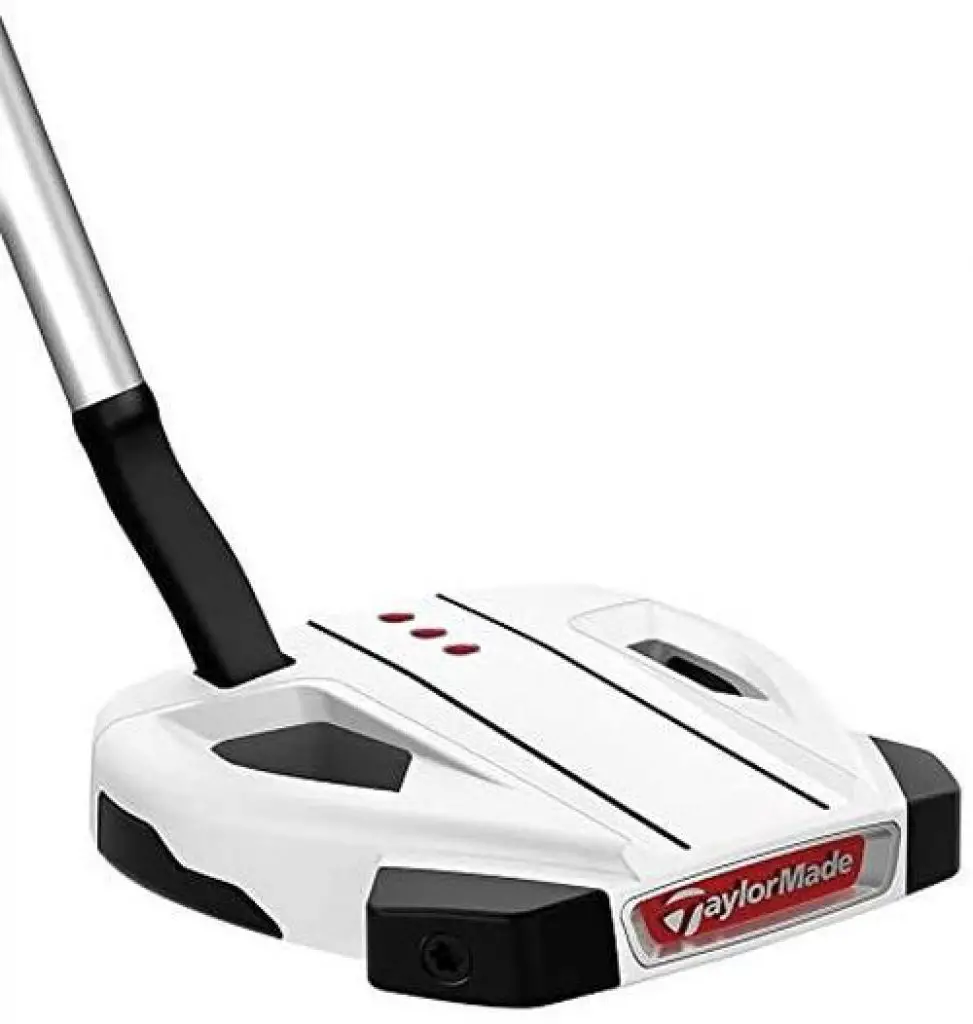 Shop now on amazon
$349.95 on

With years of experience in designing the best golf equipment around, TaylorMade does not disappoint when it comes to putters as well, outperforming almost all its competition by a huge margin.
Coming from an incredibly popular Spider family of putters, it has gained immense reception from golfers all over the world, particularly in America.
While it also boasts the True Path system on its top, making it much easier for the golfer to aim using the reflective set of white dots right at the eye-line.
Apart from the perks about alignment, the Spider EX also boasts great and remarkable forgiveness, owing to a lightweight and resilient aluminum frame with a carbon head.
For golfers interested in the feel and apparel, the Spider EX offers a soft and comfortable feel thanks to the Fluted Feel shaft.
So, if you're looking for an excellent putter that offers all-rounder performance to train your consistency in a comfortable structure, you'd be making the right choice with the TaylorMade Spider EX.
Positive
Forgiveness can help train consistency in swings
Alignment aids in shorter putts
Negatives
The white color is overpowering in sunlight
Odyssey White Hot OG Putter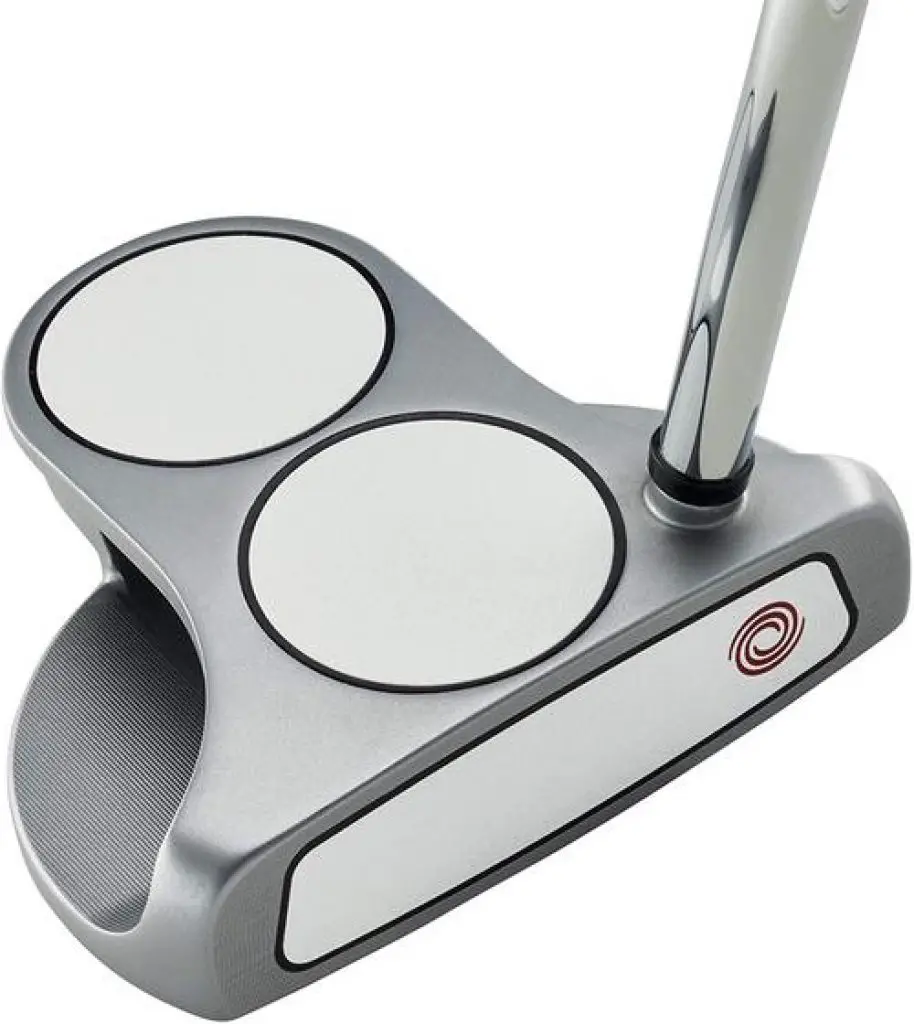 Shop now on amazon
$218.94 on

For those who are acquainted with the putter market, the name Odyssey strikes a familiar string as it has delivered some of the best putters ever made by any brand.
The Odyssey white color has become iconic and legendary in the world of golf, making it one of the most appealing options to have for each golfer, whether amateur or professional.
The classic design and expertise have been combined with modern technology have produced an excellent and premium option for golfers.
At the same time, the putter is part of a wider range of putters, with different head shapes and sizes to suit each player's playing style and preferences.
So, if you're looking for a retro design with a performance to back up the classical look, you're making the right choice with the Odyssey White Hot OG putter.
Positive
Iconic design with plenty of options
Stroke Lab shaft aids feel and timing
Negatives
Retro style might not be appealing to everyone
TaylorMade Spider FCG Putter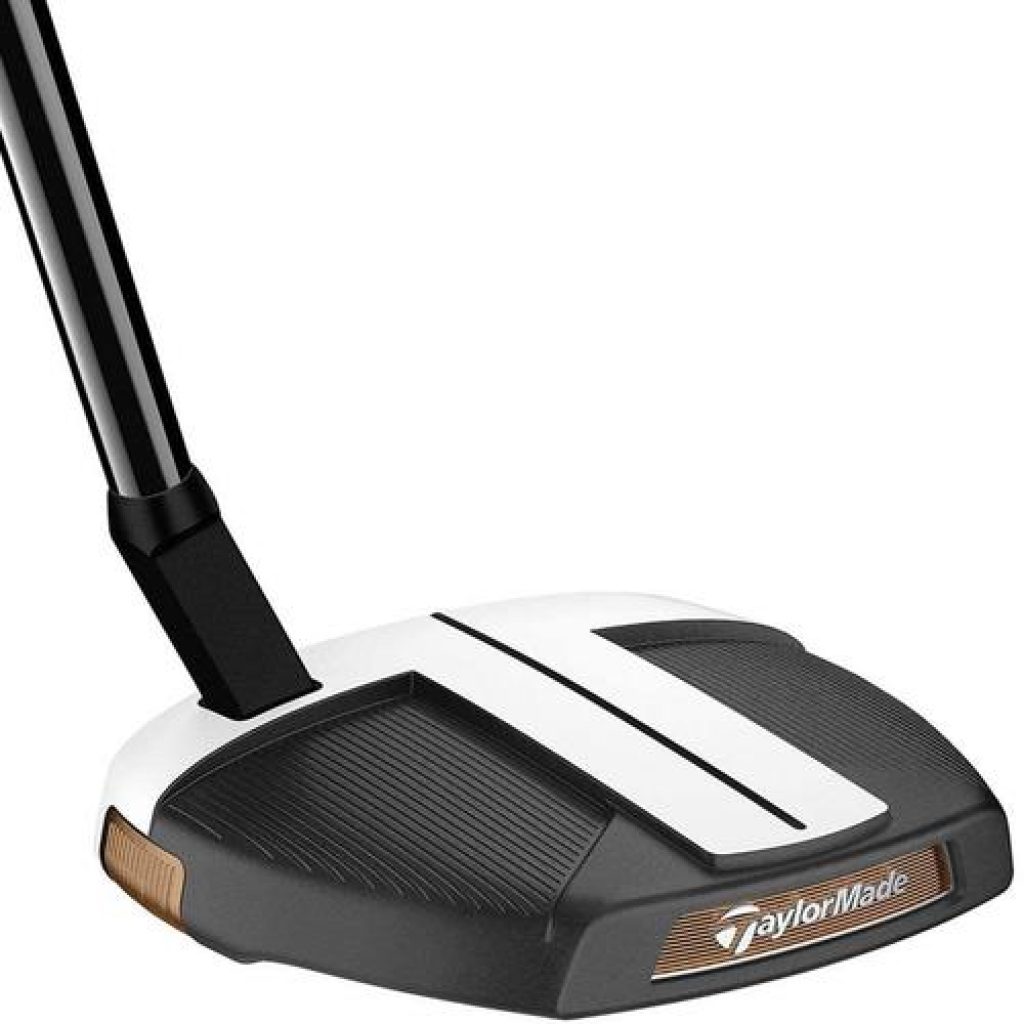 Shop now on amazon
$349.99 on

The Spider Family coming from TaylorMade has carved another entry in this list for the consistent and impressive design and features it entails, grabbing the attention of all golfers who use it.
One of the most interesting features of the putter is the T-shape design that serves as both the brand identity and the alignment to help swing the perfect shot. The soft and classical colors are a treat for the eyes!
FCG stands for forwarding center of gravity, the model used by the putter to emulate the feel and release of a blade while serving as a mallet. The grooved face also considerably aids with the roll as well.
The putter also offers adjustable weights inside the sole of the face, allowing golfers to create a specific and precise feel to their equipment, a feature that is not common in the golf markets.
So, if you're looking for something that feels like a blade, is built with a modern and aesthetic design, and delivers like a great mallet, Spider FCG is your next best friend.
Positive
Blade-like feel with mallet-like assistance
The grooved face greatly contributes to effective roll
Design is trendy and modern
PING Heppler Fetch Putter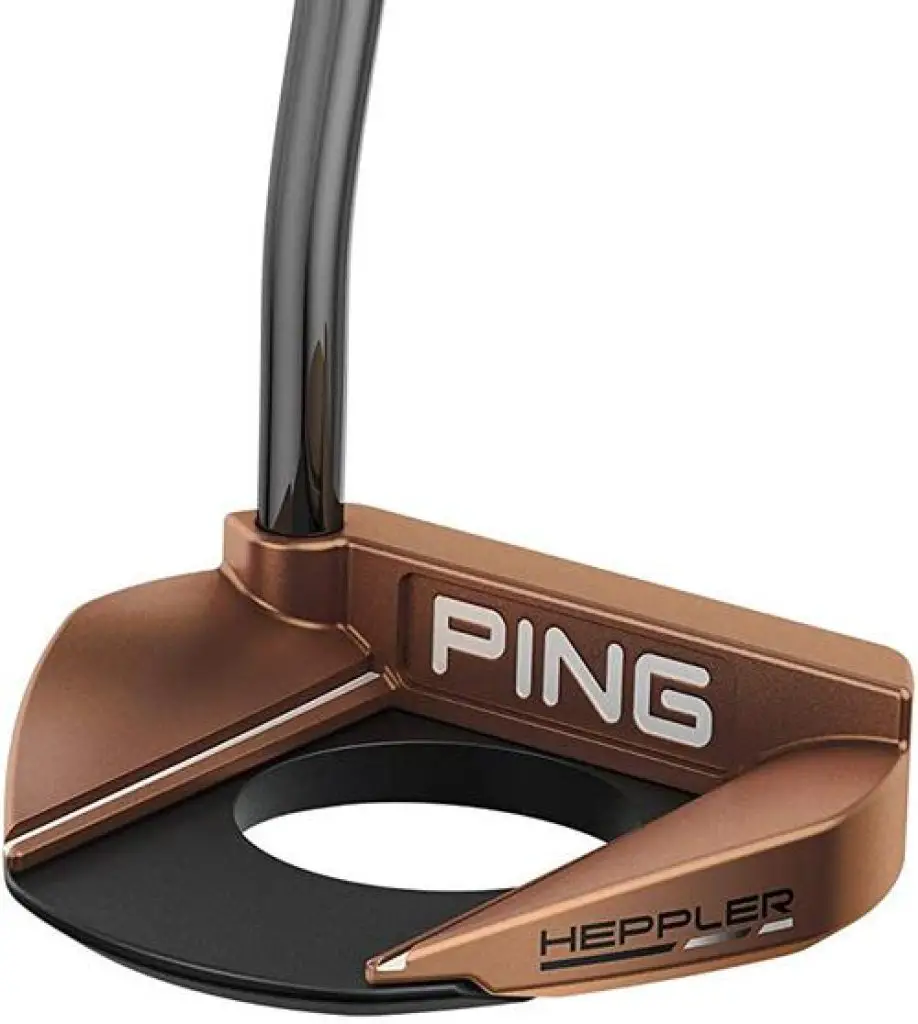 Shop now on amazon
$339.96 on

Named after the iconic engineer behind many of Ping's golf products, the Heppler Fetch putter is like a modern innovation in a market where the classic is reigning supreme.
Ping has experimented with a funky shape built out of aluminum and copper-colored steel, placing the weight at the right place to ensure maximum forgiveness for the players.
The modern visuals with the adjustable models deliver an excellent and consistent performance. The Heppler Fetch comes with impressive stability that opens into a quick roll with each swing.
With the center cut-out, you also have the option of picking up the ball, especially when it's inside the hole. Overall, the color contrast makes it easier to align your ball for the swing.
The Ping Heppler Fetch is one of the most visually striking putters available on the market with excellent and impressive performance, making it a prize to obtain.
Positive
Comes with a wide range of adjustable models
Premium and attractive look
Excellent stability
Negatives
A clicking sound can be annoying to some
The color scheme might not appeal to classic lovers
Final Verdict
While it might seem easier to think that you should just choose what the experts use but one must always choose something that he can use to ensure the maximum benefit without losing on its potential.
As you must have noticed, each company and brand produces its own unique putter, with different traits and various features in each succeeding option.
With the Odyssey Golf 2021 Ten Putter, amateurs can have a great chance at improving their performance with the alignment tools it offers, leaving the golfer with the chance to deliver the ideal shot.
If you're looking for a sleek and modern design with excellent performance, Spider EX also boasts what you could need, owing to a lightweight aluminum frame with related alignment tools.
If you're looking for a retro design with a performance to back up the classical looks and visuals, you'd be making the right choice with the Odyssey White Hot OG putter.
In another interesting option, if you're looking for something that feels like a blade but delivers like a great mallet in an aesthetic design, Spider FCG is your next best friend.
For any modern-day golfer, the Ping Heppler Fetch is one of the most visually striking putters available on the market with excellent and impressive performance, making it a prize to obtain.
However, after due consideration, there needs to be a champion among the best as well, a putter that can be considered as one of the most promising and reliable options out there.
And in our eyes, the Spider FCG, for its modern and aesthetic designs backed with consistent and dedicated performance is one of the best options for anyone looking to get a golf putter.