When you're playing golf, no two days can ever be the same, and both the game and the players continue to improve every day as they strive to be the best for each other.
As technology gets incorporated into the game, there are gadgets and tools arriving on the markets every day to change how we play the game. One of these gadgets is the Golf Rangefinder.
Earlier in the game, one was dependent upon individual estimates and landmarks to estimate the yardage to prepare for their shots. Now, it is as easy as pressing a button with a digital display.
Golf rangefinders utilize a concentrated beam of lasers to calculate the yardage with seamless accuracy, delivering statistics for you that allow you to prepare better for your shots.
Most modern rangefinders also incorporate GPS technology to help golfers see layovers and calculate distances using satellite tracking, greatly improving the overall golfing experience.
In essence, having an accurate and reliable golf rangefinder can help you get clear readings regarding yardages and help you swing better.
However, there is a wide range of options available depending on the budgets, the capabilities, and the looks of the golf rangefinder you're looking for.
With all these requirements and questions in our minds, it is absolutely important to know what brands are the best when it comes to offering golf rangefinders.
Now, at this point, you are probably wondering that from tens of brands, which one should you choose for yourself?
And that is why, in this article, we are about to enlighten you about the 5 best golf range finders for ladies that can seriously help you up to your game.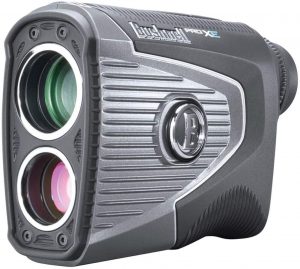 Bushnell, as a brand, has always promised to deliver the best, defining a class of its own when it comes to golf products. It is relied upon by professional golfers and coaches all over the world.
With Pro XE, Bushnell has officially created one of the best golf rangefinders available in the market, delivering limitless performance, accuracy, and consistency.
It comes with a simple and easy setup coupled with a sleek and modern design. It offers a powerful 7x magnification lens that displays crispy clear images when viewed through the lens.
It also incorporates slope technology to allow for better accuracy while offering excellent battery timing and durability. It stands as the successor to a widely acclaimed series of golf rangefinders.
No matter if you're a professional or a casual golfer, a Bushnell Pro XE is one of the best rangefinders available on the market, delivering an aura of reliability and confidence like none other.
Despite the steep price tag, it is a purchase that's worth it, especially if you are serious about improving your gameplay by a huge margin.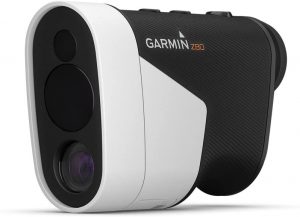 Garmin has entered the market with the latest and innovative design by incorporating both laser and GPS technologies to deliver an accuracy never experienced before.
With Garmin Approach Z80, you can now check the yardage immensely faster and effectively than before. It just takes a simple tap to now find out your location and the distance from the hole.
Using advanced processing and GPS technology, the hole closer to your current location will be selected and displayed automatically. In order to improve accuracy, the lasers would offer a perfect estimate.
The Garmin Z80 has been designed to incorporate both of these technologies to deliver the best accuracy on the market, making it a preferable choice among most golfers.
It also saves time as it speeds up your gameplay using the preloaded 40,000 golf courses to track your location with accuracy.
So, if you can afford the hefty price tag, Garmin Z80 comes with outstanding features that do not find equals on the market.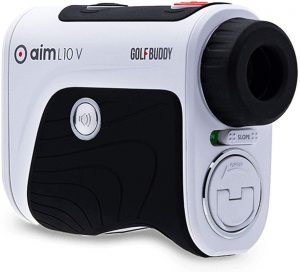 If you're looking for an economical option but still want a golf rangefinder that offers the latest technology and features, GolfBuddy Aim L10V is what you should be looking for.
It offers an exceptional and premium design and builds quality that has stolen the show in the rangefinder market. It comes with a no-hassle and trendy style with a portable design.
Unlike many other golf rangefinders, it offers voice feedback, reading out the distances in a well-balanced tone along with the digital display. It also comes with 3 different targeting modes as well.
The golf rangefinder comes with a 6x magnification lens that displays a clear and crispy image. At the same time, it is also waterproof can endure the shifts of the weather.
The golfers who are not comfortable with staring into digital screens would enjoy the voice feature while those keen for a digital display can enjoy crispy graphics that last a good while.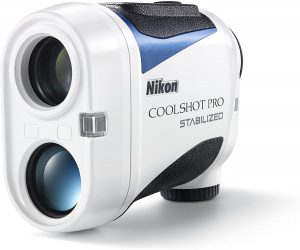 Nikon is a brand that is trusted all over the world for delivering excellent optical products and has earned its due share in the rangefinder market as well.
The Nikon Coolshot Pro Stabilized comes with a long list of features that have taken it to the hall of fame as a top-notch rangefinder, humbling much of its competition.
It is beginner-friendly and convenient to use as it also offers to stabilize technology to compensate for shaky hands or rugged breaths. With its weather resistance, you can take it anywhere you want to.
One of the most remarkable features is the OLED display it offers, making sure you can read the display no matter how sunny or bright it might be. The device also locks on to track your yardage more accurately.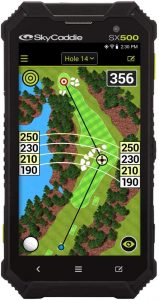 While we have only majorly discussed laser golf finders so far, SKyCaddie is also offering an equally capable performance with its GPS rangefinder.
SkyCaddie SX500 has been designed with a dedicated focus for creating a handheld GPS device that can humble even its competitors from the laser rangefinder markets.
It allows the user to access and utilize over 35,000 closely inspected and error-free maps all around the world with yearly subscriptions, allowing golfers to make versatile strategies for their game.
It is also powered by dedicated hardware that ensures a seamless and instantaneous response to the users on a clear HD screen that shows users their approximate location as well.
The user interface has been designed to keep golfers in mind and hence can be used to quickly toggle and swap between various menus and views of the target with accurate yardages.
Final Verdict
Even though it might be easier to just choose what professional golfers choose, it is always important to understand what equipment is offering you the right performance.
As you have seen, not all rangefinders are created with similar qualities. Some of them might depend upon GPS, while others might depend upon laser technology. Some even add these two together.
Starting with Bushnell Pro XE, one can rest assured that they're putting their hands on one of the best rangefinders the market can offer, providing qualities that are rare to find.
If you're going for innovation, you need to take a look at Garmin Approach Z80 that combines both laser and GPS technology to provide insanely accurate results.
If you want an all-rounder rangefinder that couples together with incredible design and quality to deliver consistent performance, then you should not look further than the GolfBuddy Aim L10V
If you're looking for an established brand that is insanely accurate and compensates for shaking hands, the Nikon Coolshot Pro Stabilized is your best shot. This is a preferable option for older golfers.
SkyCaddie revolutionizes the list by bringing exclusive GPS technology with error-free location data, making it an ideal option if you're looking for a handheld device that doesn't demand peeking through lenses.
However, after due consideration, there needs to be a champion among the best as well, a golf rangefinder that can be considered as one of the most promising and reliable options out there.
And in our eyes, the GolfBuddy Aim L10V, for its excellent features that come at an economical price earns a spot as the best among the rest when it comes to golf rangefinders.