Disclaimer: We may receive a commission if you make a purchase through links on our website.
We get compensation for qualifying orders as an Amazon Associate.
---
Just like how picking up the right club is extremely important, choosing what golf ball you use for your day at the course is equally critical to have a fruitful and enjoyable experience.
Whether you're a beginner learning the basics of the wonderful game of golfing or you are a professional golfer, having a ball that suits your play style and preference is a must-have.
---
---
And when it is about golf-balls, don't always go for what the professionals use. It is always best and preferable if you experiment around with what is best for you.
Golf is a game all about inclusion: you can play the same clubs, equipment, and courses that the professionals are using. While it might be difficult to use the clubs they have, the golf balls they use can help.
However, picking up a golf ball can be much more difficult than a simple Google search and you would need to figure out how a golf ball is performing for different styles and kinds of golfers.
All the equipment you use and be optimized for your game but most golfers overlook the importance of golf balls, leaving little budget and consideration for one of the most essential items of the game.
The right golf ball is not the one that is aimed at fixing one of your shots, but it helps you increase your game all around, helping you score and learn better.
Hence, you, as a golfer, need to learn to evaluate and choose a perfect golf ball for yourself, taking significant pain and rigor to make the right choice.
A golf ball might offer a lot of benefits, but the price needs to be considered as well. How can one be sure that the same features are not being offered with a different brand at a better price?
Now, you would see that there are tons of requirements a golf ball needs to fulfill in order to help your needs From tens of brands, which one should you choose for yourself?
With all these requirements and questions in our minds, it is absolutely important to know what brands are the best when it comes to offering golf balls
And that is why, in this article, we are about to enlighten you about the 3 best golf balls that are going to bring a revolutionary change in your playstyle and game.
---
Best Golf Balls – Reviews
Titleist V1x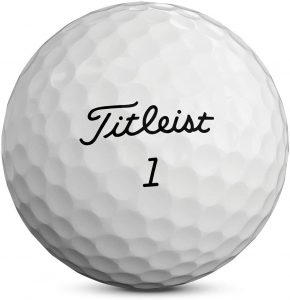 Titleist is one of the most remarkable and internationally acclaimed brands for making golf balls, delivering one the best in quality and feel for their consumers.
The Tour Soft, as the latest innovation by Titleist, has been redesigned to offer better distance and feel, a contrast to many other two-layer golf balls that are being used in golf courses.
Tour Soft is building and innovating upon widely popular predecessors like the Titleist NXT Tour and Tour S, both of which were regarded for their excellent performance by golfers and coaches.
As a two-layer golf ball, Titleist has built a sturdy core for their Tour Soft, allowing advanced golfers to have control over the overall performance of the ball just like a multiple-layer ball would offer.
The cover of Tour Soft has been designed using modern conventions to offer better exit velocity, using a mix of materials that make the ball flow gracefully through the air with relative ease.
Tour Soft, just like its name, is soft on the greens, taking you fewer efforts and force to putt. This naturally gives you better control over your strokes when you're playing longer putts.
Above all, Tour Soft offers a great level of feel as a two-layer ball, becoming a suitable alternative in the face of many competitors that offer multiple-layered golf balls.
TaylorMade Project (a)
TaylorMade has one motto: "Creating the best performing golf products in the world'. It strives to manufacture golf products for the sole purpose of assisting players reach their true potential regardless of their level.
TaylorMade takes pride in curating equipment that is closely linked to the needs of golfers, rather than luxurious and trendy options, it is creating products that deliver true efficiency. They're always worth the money!
If you're learning to play golf are attempting to have a better command over your spin, Project (a) could be your next choice. It has been designed for entry-level players.
Having a recent upgrade in 2018, Project (a) offers an exceptional spin rate when stuck with the proper direction, acting like a perfect means to fine-tune your swings.
If you miss the perfect struck, the ball can hook or slice. This means that you would need to be consistent in your swings in order to gain better performance, naturally making you improve.
While it might not be a good bargain for high-handicap golfers, the ball can greatly help beginners start making better shots and swings for scoring those points.
Project (a) has been designed with a three-layer to offer a high-level of spin, working exceptionally fine for both mid-level handicappers and entry-level golfers who're learning to play better.
So, if you're looking for an all-rounder golf ball that offers tons of benefits coupled for beginners to learn and grow with a technical design, TaylorMade is a brand worth bringing home.
Bridgestone E6 Speed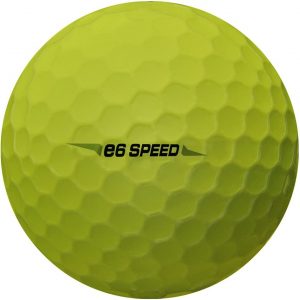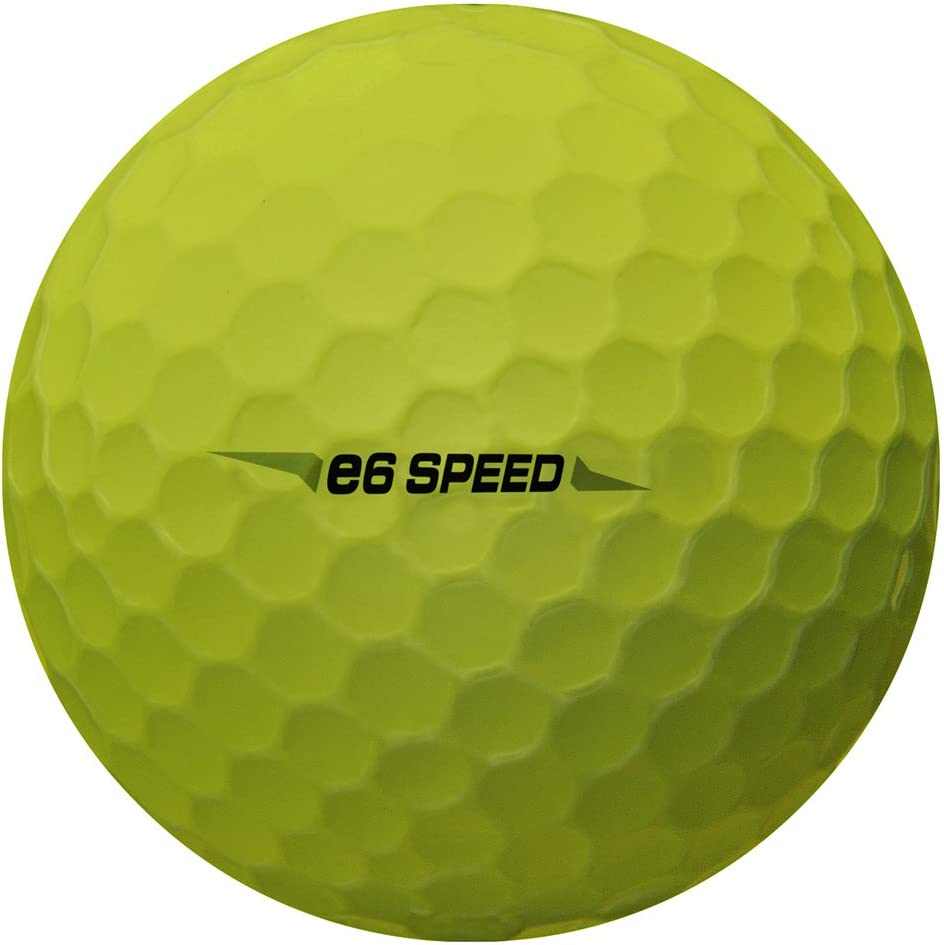 From North America, Bridgestone Golf stands as an exceptional manufacturer for a wide range of golf equipment, including some of the best golf balls in the markets.
Bridgestone has gained popularity due to its great attention to quality and customer satisfaction, striving to provide the best products for the best price.
Bridgestone golf balls come with a reasonable price point and offer a value for their products, making them a great choice for golfers across all playing ranges.
As a mid or high handicap golfer, one of the most frustrating experiences is to hit a fair distance with a straight shot, easily ruining scores for many.
If you get stuck in an inconvenient position such as trees, it could take considerable effort, stamina, and shots to work your way out if you don't have the right ball.
That is where E6 Speed comes in, it helps you stay straighter off the tee while delivering consistent and better distance, a blessing for mid-to-high handicap golfers.
For golfers who do not possess a high club speed or an exit velocity rate for their swings, E6 Speed can be a well-needed addition to their golfing kit.
With a three-layer construction and design, the middle layer has been designed to considerably reduce spin and produce more speed, rather than enhancing spin, making it a recommended choice for golfers.
Final Verdict
Even though it might be easier to just choose what professional golfers choose, it is always important to understand what balls could offer you the best performance.
That is why, in this article, we highlighted the best 3 golf balls being offered in the market, helping you have an idea about what you are looking for.
If you're looking for a ball that delivers excellent performance and is used by professionals all over the world with a trendy and modern design, Titleist Tour Soft is definitely the one.
A tour-level ball is used by professional golfers and is a high-end ball that gives you a consistent and high level of distance and spin control performances.
Tour Soft, as a two-layer ball, offers a great level of feel and can offer better control over your strokes when you're playing longer putts, along with effective spin control.
Similarly, for amateur and beginner golfers, having a Project (a) could be their ticket to getting better at swinging spin shots, as it requires consistent and precise strikes.
So, if you're looking for an all-rounder golf ball oriented towards beginners to learn and grow with a technical design, TaylorMade Project (a) can be a great golfing companion.
Furthermore, if you want to stick straighter off the tee and dedicated distance with speed, a Bridgestone E6 Speed is recommended, especially for reducing spin at a reasonable price.
Remember, do not count just the speed! E6 Speed might give you a great distance, but it is not the ideal choice for advanced golfers because of a reduced spin.
However, after due consideration, there needs to be a champion among the best as well, a ball that can be considered as one of the most promising and reliable options out there.
And in our eyes, the Titleist Tour Soft, for its modern and innovative design that has been known to provide exceptional distance and feel has earned the rank as the best golf ball being offered in 2022.