When you talk about golf equipment, you cannot tweak around much with the basic concepts, you need to stay close to the classic purpose and styles of how things work. After all, the wheel can't be reinvented!
Most golfers would assume that it is not exclusively important to carry around a high-quality golfing bag except for the apparel and outlook, as it is not actively used when you're golfing.
However, they need to know that golf is a game that demands to be refined and improved every day, even if it comes to where you want to put in your golf clubs.
When you're out in the field, you need to do your best to preserve the much-needed stamina and endurance that you would be needing to throw better and powerful swings.
That is where having a perfect bag helps, a perfect bag would not only be light-weight and durable but would also not feel like a hassle to carry around a lot, whether it's on the cart or is it on your shoulders.
Moreover, it should also be able to handle the tosses and throws it might get on a golf cart, along with withstanding the constant heat and weather impacts that one often finds on the course.
And when that is provided for, it is always important for a golf bag to be good at what it's made for: holding all your important equipment carefully so that it does not get damaged or broken.
And let's not forget, even when a bag is performing at its peak, what good would it be if it does not look fine and graceful? A perfect bag needs to be equally classy and impressive.
A bag might offer a lot of benefits, but the price needs to be considered as well. How can one be sure that the same features are being offered with a different brand?
Now, you would see that there are tons of requirements a golf cart bag needs to fulfill in order to help your needs From tens of brands, which one should you choose for yourself?
With all these requirements and questions in our minds, it is absolutely important to know what brands are the best when it comes to offering golf cart bags.
And that is why, in this article, we are about to enlighten you about the 3 best golf cart bags that are going to bring a fresh experience to your golf course.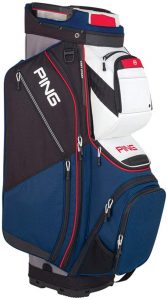 For golf enthusiasts, Ping does not need any introductions. It is regarded as one of the best providers of golf equipment all over the world.
Ping promises quality, so if you're looking for a bag that comes with fine attention to detail and quality, Ping Pioneer is what you should be going for.
With 14 pockets that come with magnetic drop-down and range-finder pockets, a cooler pocket, and a velour-lined multi-use pocket, making the process of organizing your clubs an easy breeze.
The dividers are wide and the structure of the bag is evidently well-thought-out, promising that the pockets never end up sneaking to their neighboring pocket to snag.
With over 35L of pocket volume, the Pioneer provides ample space along with a multitude of different pockets to make sure you stay neatly organized for the game.
The bag offers integrated lift handles that help in maximizing both club management and transportation and even comes with a rain hood to protect from unexpected showers.
Above all, the bag offers a durable ripstop polyester fabric that lasts for a good while with a trendy and classic design, making it a perfect addition to your golfing equipment.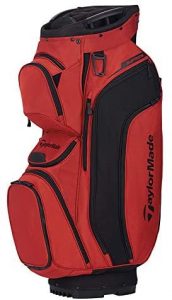 TaylorMade has one motto: "Creating the best performing golf products in the world'. It strives to manufacture golf products for the sole purpose of assisting players reach their true potential regardless of their level.
TaylorMade takes pride in curating equipment that is closely linked to the needs of golfers, rather than luxurious and trendy features that many players might not feel they might use.
If you're looking for a golf cart bag that is designed to put your needs first without hassle, you should definitely be bringing home a TaylorMade Supreme.
Supreme offers two micro-suede lined pockets for protecting your valuables with twelve pockets with full-length dividers to protect your clubs from both clouding and sticking.
Each of these storage pockets can be expanded to offer maximum space and also reinforced with tarpaulin to prevent wearing and tearing, both inside and outside the bag.
TaylorMade Supreme also comes with some of the larger cooler pockets being offered by golf cart bags, keeping your drinks cool and away from the fiery sun.
As the gloves come with extra thin technology, it is easier to stay connected to the club, offering good flexibility. Also, the closure fit technology assigns this glove an excellent fit.
It also offers an umbrella holder and a single durable strap that is easy on the shoulders with a matching rain hood, showing that TaylorMade has always prioritized the needs of a golfer.
So, if you're looking for an all-rounder golf cart bag that offers tons of benefits coupled with eye-catching and durable designs, TaylorMade is a brand worth bringing home.
Cobra Golf has gained popularity due to its great attention to quality and customer satisfaction, striving to provide the best products for the best price.
Cobra placed its priorities on two main elements, a bag that is light enough yet has enough storage to contain all the stuff a golfer would ever need.
With a striking design that incorporates the brand name, Cobra Ultralight excels in all criteria and can definitely be counted as a perfect example for a premium bag.
It has a design that is flashy and vibrant enough to look great and trendy while at the same time, it is low-key enough to make sure it does not stand out too much for the humble golfers.
One of the prime qualities about the bag is how incredibly light it is along with having enough space for all your clubs, drinks and snacks, and other important golf accessories.
The shoulder pads are extremely comfortable and are made from cool flow foam that allows the bag to be put on without any serious friction without burning your shoulders.
The bag also comes in multiple colors to suit your attire and styles and comes with a matching rain hood to protect your equipment from the strains of the weather.
Final Verdict
Whether you came here looking to buy the best golf cart bag, or if you came here to seek some buying advice for the latest trends in the market, we have got you covered.
That is why, in this article, we highlighted the best 3 golf cart bags being offered in the market, helping you have an idea about what you are looking for.
If you want a bag that offers maximum storage without taking up much space or weight, you should consider buying the TaylorMade Supreme.
If you are playing with a region with fewer or almost no water stations, having a separate cooler pocket can also make a huge difference, something that TaylorMade Supreme proudly offers.
It offers plenty of space that does not snag or crowd your equipment together and has enough storage to store all your equipment in one place too.
Likewise, Ping Pioneer, as one of the best cart bags in the market, offers full-length drivers with no extra hassle of material to make club organization easier than ever.
It also comes with durable and sturdy materials that can make sure the bag lasts many seasons before showing any signs of wear and tear.
Cobra Ultralight, just like its name, is also a brand to consider, it offers everything a premium bag would offer with much less weight, making it extremely comfortable and relaxing.
Remember, do not count just the pockets! Cobra Ultralight might not offer more pockets, but it offers features that can put many other premium bags humbled next to it.
However, after due consideration, there needs to be a champion among the best as well, a bag that can be considered as one of the most promising and reliable options out there.
And in our eyes, the Ping Pioneer, for its durable and sturdy structure coupled with the excellent build quality, has earned the rank as the best golf cart bag being offered in 2021.