Playing good golf is closely tied to having good golf equipment. While many people don't care about the shoe's quality, a good quality shoe can be a gamechanger.
In golf, the crucial factors of an accurate shot are traction, stability and flexibility. A golf shoe plays its part in ensuring that, it provides you with enough stability and traction to score as a professional would.
Professional golfers spend a lot of time finding the best pair of golf shoes around while some collaborate with designers from different brands to create their own signature golf shoes.
There are many factors to consider when buying a golf shoe. One of them is the material and build quality. There are tens of brands offering various kinds of qualities and versions.
Fitting is another crucial factor because your feet will move in a loose shoe, affecting your stability, whereas a tighter shoe will be hard on your feet. So, you need to get one that perfectly moulds around your feet.
So, are you looking for golf shoes but can't find out which one to choose? This article will solve your problem, by shedding light on the 5 of the most popular Men's Golf Shoes.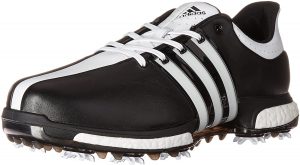 Based in Germany, Adidas is renowned and a well-reputed sports brand. They have been manufacturing high-quality shoes since 1924 with a mission to produce high-quality equipment for athletes.
Adidas is one of the biggest sports giants with a fine reputation for making quality golf shoes. Over the years, they have designed and produced shoes that have been spotted on many champions.
Golf TOUR 360 has ruled the golf shoe market for 10 years. These remarkable shoes have changed a lot in terms of performance, comfort and quality, but the appearance is quite similar to the original one.
TOUR 360 Boost is made from 100% premium leather with synthetic Boost Foam sole. Boost Foam cushions the heel and forefoot, significantly reducing fatigue and allowing you to walk through long golf sessions.
Adidas Golf TOUR360 Boost features a leather upper sole with climaproof technology that holds the shoes greatly in wet situations. For superior grip in rain, it has 10 cleat grips that firmly grasp the greens.
Flexibility is an essential factor because complex foot movements can drastically damage the shoes. Tour360 uses a 360 wrap saddle and torsion tunnel to offer stability and flexibility during your shots.
If you are looking for a solid pair that lasts and performs while offering stability and flexibility, then Adidas Golf TOUR360 Boost is the right choice for you.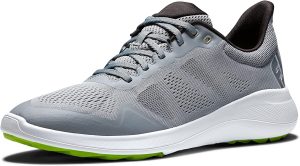 FootJoy is a Massachusetts based golf clothing company founded in 1857, later acquired by Acushnet Company in 1985. FootJoy is ranked as among the best golf product seller in North America.
If you are looking to buy a new pair of golf shoes, then FootJoy Flex must be in your top five choices.
The second pair on our list is featuring a spikeless outsole, using the Versa-Trax system. It provides more connection to the ground and can be used off and on the golf course.
FootJoy Flex also offers a round toe design, allowing the toe to spread normally when your weight shifts forward. The round toe gives the shoe a modern and athletic shape as well.
It has a mesh outer layer for breathability and comfort. While the bottom half of the shoes have a waterproof coating to protect your socks from getting wet but water can seep down the shoes through the outer mesh.
In essence, FootJoy Flex is a modern and classy spikeless golf shoe that provides incredible stability and comfort during your golfing sessions.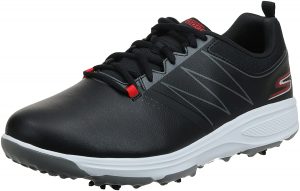 Skechers is a California based shoemaking company established in 1992. Skechers are producing and designing high-calibre shoes of different varieties, delivering simplicity with comfortability.
They recently invested in golf shoes and looking to expand Skechers in the golf shoe marketplace. In a very short time period, they have been able to create a name for themselves in the golf shoe market.
Skechers Torque is a simplistic golf shoe with a synthetic leather-like finish. The round toe design allows the toes to expand naturally when your weight is shifted forward, promising a smoother sensation.
Moreover, thick padding surrounds the feet, the padding prevents feet movement inside the shoes and provide superior comfortability for longer golf sessions.
The replaceable spikes and moulded bottom plates provide incredible traction and hold the ground firmly. Spikes interconnect with the ground and locks the foot during your swing.
Skechers shoes are on another level of waterproofness. The rounded design provides a solid base to evenly coat the waterproof layer. The coating keeps your feet dry in the rain to make sure you never get wet socks.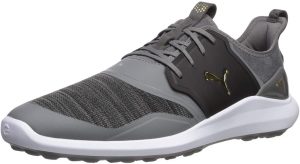 Puma is the world's third-largest sportswear manufacturer. Based in Germany, Puma was founded in 1948 and has remain recognized around the world due to its quality footwear and apparel.
While not as popular as Nike or Adidas in golf shoes, Puma has established a good name in the golf shoe market by producing durable, comfortable and cheap shoes.
Puma Ignite NXT is an advanced spikeless pair that uses its robust outsole to provide remarkable traction. The outsole has over 100 hexagonal nodules that stabilize the body and maximizes the swing speed.
The shoe is among the most waterproofed models available on the market. Its mesh outer layer is coated with waterproof material that keeps the inside dry no matter how rainy the weather is.
The ergonomic body carries the Ignite as running footwear but it performs as a classic golf shoe. The outsole is lined with microfilm which keeps the dirt on the surface. It allows the golfer to easily wipe the dirt when cleaning.
Puma Ignite NXT is the best performing spikeless golf shoe in the market, striving to provide outstanding stability, traction and comfort to the feet and body of the golfer at an economical price tag.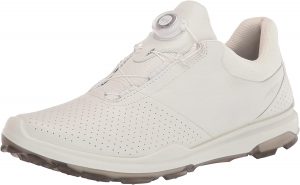 Ecco is known to make premium quality golf shoe that literally moulds to your feet. They are in the shoemaking business for ages.
Ecco offers a vast golf shoe line with all the shoes delicately designed to provide superior comfort and maximum quality. Their shoes are made from premium material and come with a steep price tag.
It is difficult to find a better spikeless golf shoe than the Ecco Biom Hybrid 3. The spikeless shoe is made from strong and lightweight Yak leather, offering a look that could go well with formal situations as well.
Ecco Biom is layered by Gore-Tex waterproof layer with the layer providing extra protection to keep the premium material safe. The layer also enhances the breathability of the shoes.
The beautiful Ecco Biom Hybrid 3 is an expensive Golf shoe, not suited for the common golfer. It pushes the limit of comfort and builds quality in a golf shoe, making it a worthy competition to established brands.
Final Verdict
In this article, we described the highlighting features of the 5 Best Golf Shoes for Men with the aim to help you narrow down your choice to only what you deserve.
If we look at our first product, Adidas Golf Tour360 Boost is a reliable, comfortable and waterproof golfing partner. It is featuring a leather upper-layer with a synthetic boost foam sole, coming from an established brand.
Secondly, FootJoy Flex has a mesh outer-layer for breathability, it has a new Versa-Tex sole which makes the shoe suitable for off the course usage but can be a hard choice for rainy seasons.
With the Skechers Go Torque, a golfer gets dense and soft cushioning around the feet. Its sole provides a firm grip on the ground and waterproofing performance is outstanding.
Puma, with Ignite NXT, is offering exceptional comfort and great traction for accurate and reliable shots.
The last one is, Ecco Biom Hybrid 3, this shoe is the best performer in every aspect, it has the best features out of all. However, the only drawback is its exorbitant price tag.
For us, the best Golf Shoe has been Puma Ignite NXT. The shoe offers a wonderful mixture of comfort, incredible stability, traction and flexibility to the user at an affordable budget.