Whether you're a beginner or a professional golf player, one thing you know for sure is that the key element of golf, apart from being consistent, is competitiveness, as golfers are extremely competitive.
And when it comes to satisfying that competitive golfer inside of you, you need to get a hold of the perfect driver for your next round.
If you peek inside your golf bag, you will find that the driver is the longest club, with the least amount of loft for a full swing. To get the ball as far as possible, we need to swing at maximum speed with the driver.
These above-mentioned points make it harder to achieve perfectness in your shots but with determination, consistency, and having a full hold on your driver in terms of control, you are going to ace it.
In this article, we are going to tell you about the best 3 longest golf drivers to help you improve your golfing skills. No matter whichever one you plan to buy, it's going to fit right with you.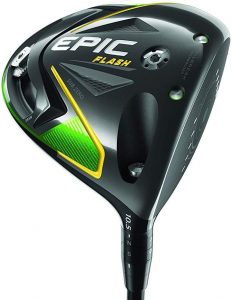 Like always, Callaway ranks first in the top 10 golf brands and more professional golfers prefer to use Callaway drivers, as compared to other contemporary and competing brands.
One of its classic and most popular equipment, the "Big Bertha" Driver, which is used by many white-collared golfers, has gained acclaim from golfers all over the world
Callaway Epic flash comes with a little larger profile giving it a more appealing look. This model is specially designed to help you keep your spin right down.
The biggest turn-on about this Callaway driver is that it's going to help golfers get more ball speed for more distance because of its flash face.
Flash Face was designed by having a supercomputer use artificial intelligence to run 15,000 prototypes, to curate the perfect design, making it revolutionary in the standards of technology.
Callaway Epic flash also features Jailbreak technology with two internal bars connecting the crown and sole behind the clubface, to ensure more impact load on the face, allowing the player to hit it further.
Inside of the driver's face, you will be amazed by its strange design as it's a series of thinning and thicknesses of the clubface circulating the center spot and out towards the perimeter to enable faster ball speeds.
Thus, this modern head shape and internal weighting produce a sparse union of high MOI and low spin, ending up being more forgiving.
Callaway Epic flash is friendly to adjust the weight with its one side marked 'Draw' and the other side 'Fade'.Move it towards what you are looking for and it will offer you the desired outcome.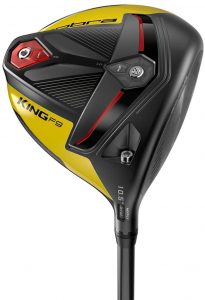 Cobra Golf is also ranked among the best among the bests. Based in California and being innovative from the very start, its main priority is producing a variety of golf clubs with no compromise on quality.
While the Cobra King F9 Speed Driver doesn't seem to cater to one's aesthetic sense, with its yellow and red color combination along with the triangular shape of the bottom, until you put it to work.
When you put the F9 Speed Driver down behind the golf ball and play the swing, that's when the whole perception about it alters.
In very honest words, it's a package of awesome CG location, tremendous aerodynamics, which are put together to offer you speed back.
Cobra King F9 Speedback Driver includes a new design called Speedback, which tends to improve the aerodynamics and CG location of the driver, a combination difficult to normally achieve.
Another impressive feat about F9 Speedback is that it includes E9 face technology, MyFly adaptable hosel coupled with removable weights on the sole of the driver to attain a particular ball flight characteristic.
The material utilized at the top of the crown is a lightweight carbon wrap. Because of it being so lightweight it tends to push a CG location down and further back, making it the promising golf driver there is.
Unlike other golf drivers, it has a larger sweet spot helping in delivering more speed farther away from the face.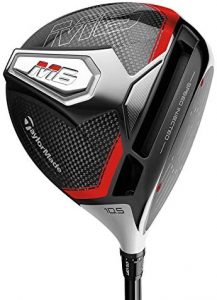 With their motto of "Creating the best performing golf products in the world', TaylorMade intends to manufacture golf products for the sole purpose of assisting players of any level reach their true potential.
TaylorMade originally marked its presence with the creation of metal drivers, which still rule the golf market. The company is known for producing quintessential golf clubs, balls, clothing, and much more.
TaylorMade M6 drivers are exceptionally fast and almost unreal. While exhibiting a superb look, the M6 driver features more carbon than ever used before.
With a matt top marked prominently with a carbon crown that inclines aesthetically, the drivers brandish a unique and chic look that has gained a repute.
When it comes to the shape of the M6 driver, it's much more symmetrical across the bottom, making the weight of the M6 lean more towards the back of the head, which is another plus point.
One of the crucial things about this drive is its speed-injected twist base. So practically, the M6 driver comes with an ultra-thin titanium face injected with resin into the heel, to maximize the ball speed.
TaylorMade has positioned a restricted 46-gram weight low and in the back to increase MOI and lower CG. It provides a manageable spin profile for players with above-average swing speeds.
With its features, it's an absolute bomber of a golf club and can be regarded as a perfect choice for people who are in for forgiveness and workability.
If you are looking for more right to left, TaylorMade has manufactured another D-type m6 driver which intends to provide you extra distance gains of 20-30 yards.
Initially, the m6 drivers give an impression of being quieter than other TaylorMade models but with more consistency in terms of hitting the center of the face, it dawns on the player that it is loud.
Final Verdict
The Taylormade M6 Driver, Cobra King F9 Speedback Driver, and Callaway Epic Flash are set to be the 3 best golf drivers in 2021, and choosing one of the three promising drivers is quite a challenge.
If we talk about the M6 driver, the leading edge of the M6 driver has become fairly thin and the crown a little bit bigger which makes it look super cool, especially with blood orange shades.
At the same time, the twisted face, always helping off-centered hits find more fairways cannot be denied as well.
On the other hand, looking at the finest technologies used in Callaway Epic Flash, it certainly seems to be the choice of every golf lover, for a number of justified reasons.
Artificial intelligence-backed design and structure, Jailbreak technology and a new speed frame combine to provide more distance for every player, along with its classic looks.
Callaway Epic flash is all about speed without reducing the head size, which is quite an achievement. It's likely to be between 0.8-1.5mph faster, making it stand out from its previous models.
With an awesome CG location and tremendous aerodynamics, Cobra King F9 Speedback Driver is the ultimate formula for speed, promising exceptional fast ball speeds with a CNC Precision Milled Face.
Apart from the performance factor, if we talk about the sound of Cobra King F9, it would be a perfect surprise to know it's a blend of classifying and a thudding 'knock', making it the talk of the town.
We can't rave about the performance of this driver enough. From being super adjustable to exceptionally forgiving, this is worth having.
In our eyes, the Cobra King F9 is, without any doubt, the best of 3 golf drivers and with its affordable price range, it can be your next favorite golf driver in the coming rounds. Happy Golfing!