No matter if you're a professional golfer or a beginner when you're on the golf course your main focus is on improving and enhancing your gameplay. Hence the less equipment you carry around, the better.
However, even if you choose to carry the most essential equipment on the course, they can still tire you out, and end up affecting your game performance.
But you need not worry as technology has taken upon itself to provide you with the best possible experiences in almost every field of life, be it a sports game or regular life.
That's where the golf push carts come to your aid to spare you the trouble of walking for hours on end while carrying your golf bag or kit on your back.
Not only are they inexpensive as compared to the golf carts but they also tend to carry a lot more things other than your golf kit or bag, such as your golf clubs, golf balls, phone, umbrella, scoreboard, and water bottle etc.
Moreover, if you have a neck or back injury then walking to your golf ball while carrying your golf kit or bag, in between the shots, won't be an ideal thing to do.
Hence, you can load your golf clubs and bags on the golf push cart and walk freely around the course along with your golf buddy, and enjoy and play your golf game to the fullest without having to tire yourself out.
Down below we are going to provide you with a list of the 5 best golf push carts of 2021, to help you analyse which one suits your needs best if you're planning to buy one.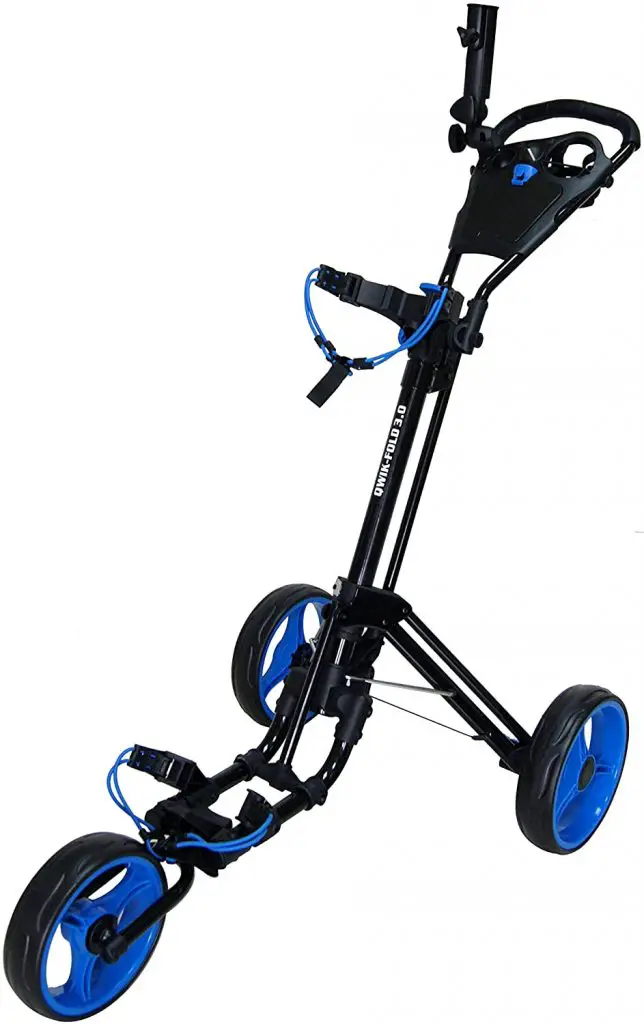 Our top pick is Qwik-Fold 3 Wheel Push/Pull for a number of justified reasons. First of all, the opening and folding of this pushcart are made way easier, with Patented bullet-system technology.
Its height-adjustable handle makes it easy for you to navigate your way through the golf course. The fact that it's super lightweight (only 17 pounds) and compact, makes it easy for you to put it in the trunk of the car.
The storage space it offers is remarkable. Speaking of which, it has a free umbrella holder, a score holder and a drink holder as well, making it the best of the golf push carts among its competitive brands.
In addition to all that, it has a stable front wheel that does not let it veer right or left during your walk on the golf course.
All in all, it is a complete package that includes everything you've been looking for in a golf pushcart.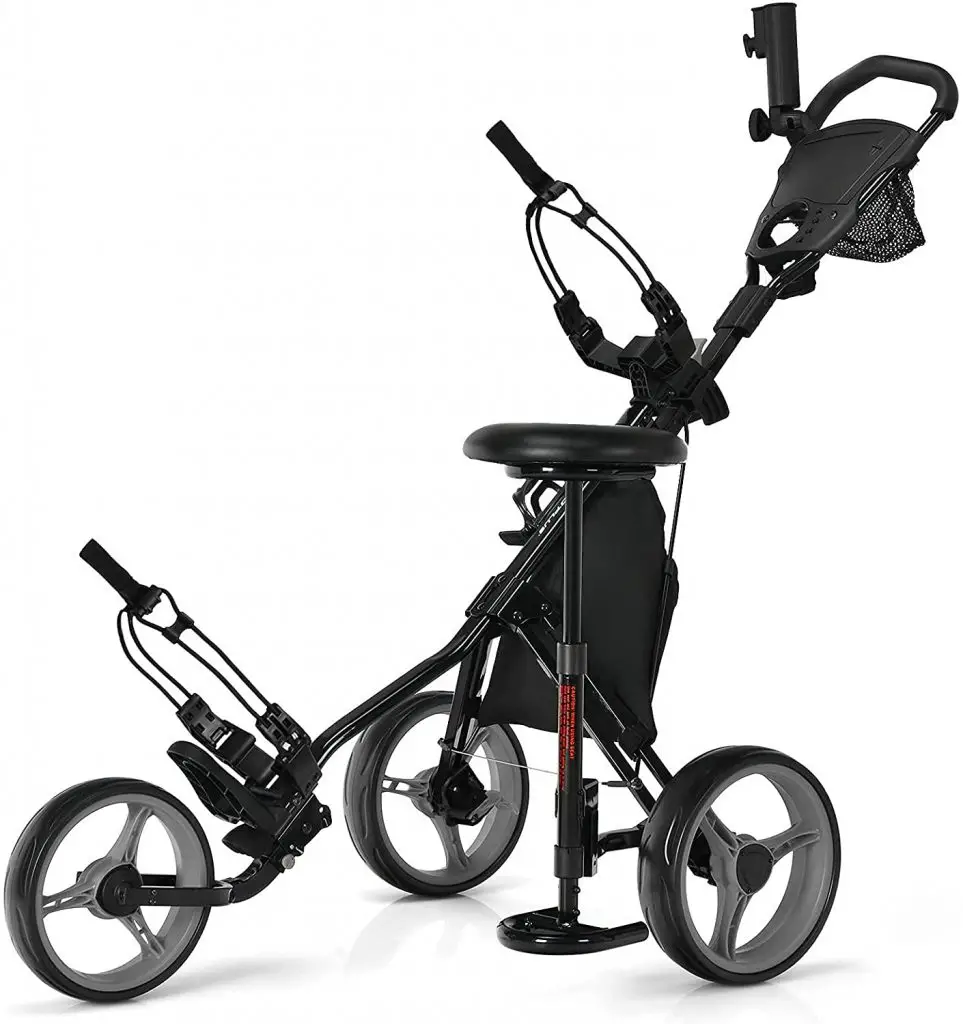 Our second product in this listing is Tangkula Golf Cart Swivel Foldable 3 Wheel Push Pull Cart, which is the most favourite among golfers because of its convenient foldable design.
Its 4 levels adjustable height trait caters to the needs of golfers of different heights, helping them push or pull it easily without having to strain their shoulder muscles, thus making it an ideal fit for them.
One of its amazing features is that it comes with a soft leather padded stool, that you can use for your comfort whenever needed, thus making it exceptional and extraordinary than other pushcarts.
It has an extra special mesh net on the handle to help you store small items like mobile phones, power bank, golf balls, and tees etc.
Besides, it also entails two cup holders and an umbrella holder as well. Not to mention the additional hook to help you hang small items, including clothing such as sweaters or caps etc.
Thus, such a complete package of a golf push cart with tons of cool and incredible features is a must-have.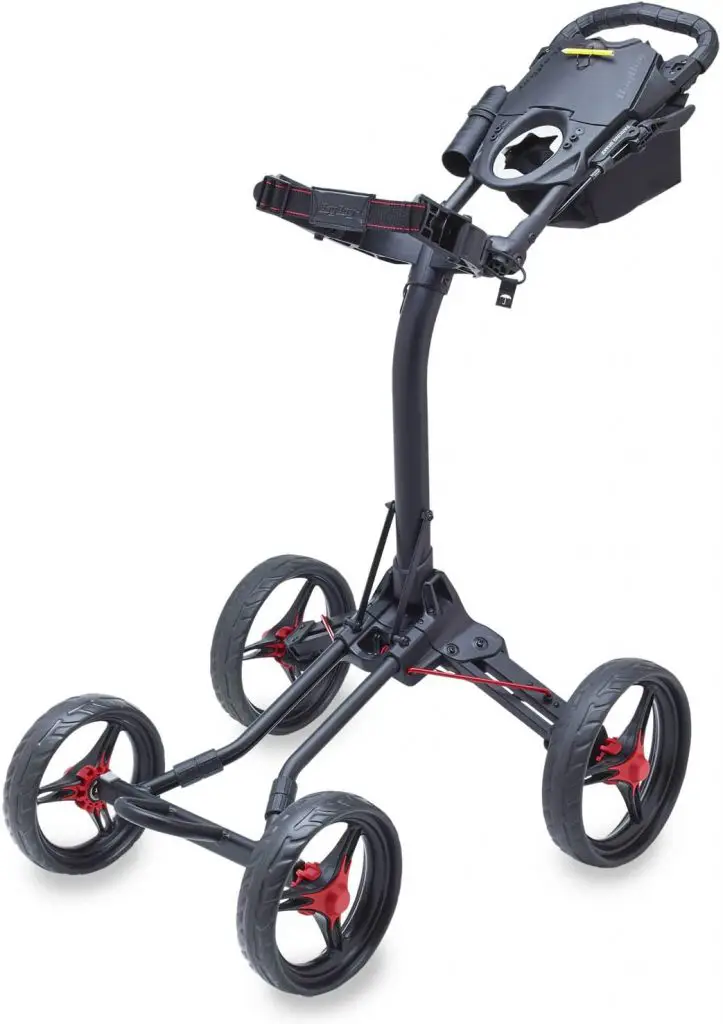 If you are looking for a sturdy, compact, pocket-friendly and lightweight golf push cart, this Bag Boy Quad XL Golf Cart can prove to be your next favourite and is thus listed among our 5 best golf push carts.
The most incredible aspect of this push cart is its four-wheeler, which promises not to tumble down on any kind of terrain.
Its 9.5-inch front and 11.5-inch rear oversized wheels move around the golf course with extra comfort. In a related manner, it is a super lightweight design at 16 lbs, with an easy-to-use hand brake.
Moreover, it can be opened and folded back easily without putting much effort into a three-stage movement.
Apart from that, it contains an umbrella holder, mobile phone and GPS device holder and a cup holder, hence making it the perfect fit for you.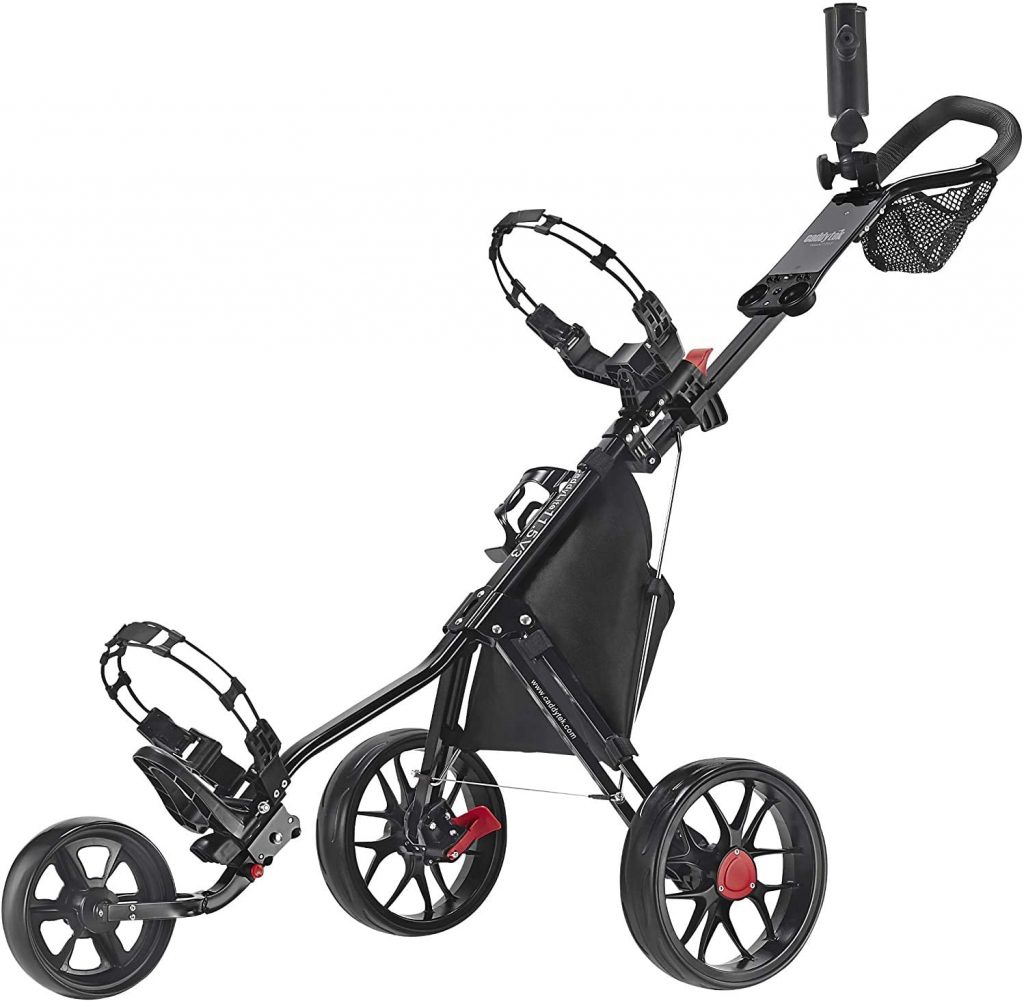 Caddytek 3 Wheel Golf Push Cart comes with a variety of features, giving you the ideal level of comfort and ease on the course, thus making you fall for it instantly.
First of all, it is easy to assemble and is compact enough to fit in the trunk of your car. Apart from that, it entails padded handles giving you a pleasing touch while you navigate your way on the course.
The small mesh pouch attached to its handle comes in handy and gives you quick access to your mobile phone, golf balls and extra tees.
Moreover, it includes 3 large-sized wheels which ensure to keep the golf push cart moving even in the roughest of terrains. Its ease of use in all terrains makes it the favourite pushcart among the golfers out there.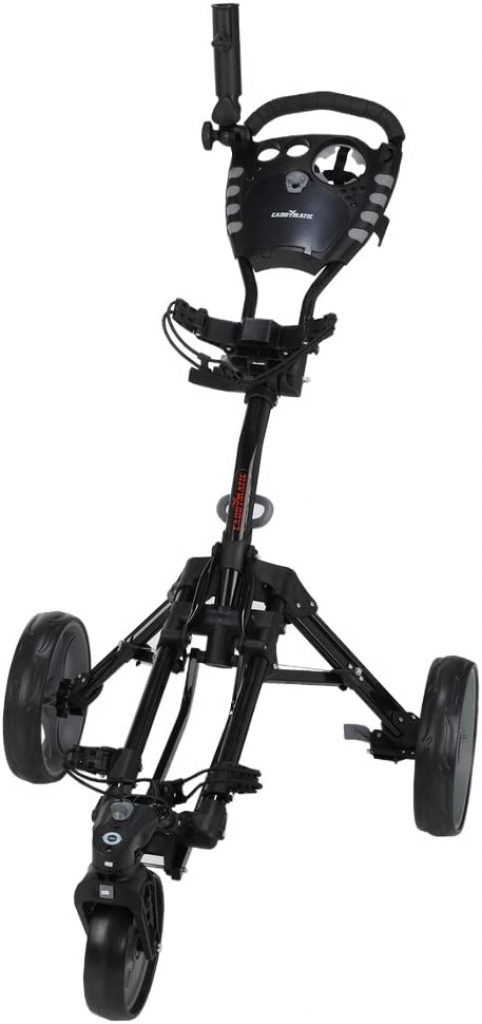 Our fifth and last product in the listing is Caddymatic Golf 360° Swivelease 3 Wheel Folding Golf Cart. It's one of the favourite pushcarts of golfers because of its remarkable features.
This three-wheel push cart provides an extra level of stability than other carts. Its extra-wide handle provides a steady grip on your hand, helping you change direction swiftly and conveniently.
It is designed with larger rear wheels and a comparatively smaller front wheel which renders you the highest level of manoeuvrability.
When it comes to storage, it entails separate holders for every item, such as an umbrella holder, a beverage holder, even a separate ball holder and a scorecard holder as well.
All these features combine to give you the best of experiences on the golf course, thus making it to the list of our top 5 golf pushcarts.
Final Verdict
In this article, we have brought out the amazing features and traits of the 5 best golf push carts of 2021, and we understand that choosing one of the five promising pushcarts is quite a dilemma.
If we talk about Qwik-Fold 3 Wheel Push/Pull, its sturdy and stylish build makes it look super cool. Especially its Patented bullet-system technology is what makes it a golfer's delight.
At the same time, the fact that it's super lightweight and compact and can be loaded back with one swift in the back of the car, cannot be denied.
On the other hand, looking at the additional padded tool that comes with Tangkula Golf Cart Swivel Foldable 3 Wheel Push Pull Cart, makes it a choice of every golf fanatic.
Its 4 levels adjustable height trait, which makes it ideal for golfers of any height. Moreover, its cup holder, umbrella holder and extra special mesh net on the handle make it stand out from its previous models.
Bag Boy Quad XL Golf Cart is all about stability and striking a balance between value and quality. The fact that it's a four-wheeled push cart makes it stand out from other pushcarts.
With an easy to fold and open feature and small mesh pouch attached to its padded handles, Caddytek 3 Wheel Golf Push Cart is your go-to.
The extra-wide handles of the Caddymatic Golf 360° Swivelease 3 Wheel Folding Golf Cart bags the honour of being our favourite pushcart among the given list because of the high level of manoeuvrability it offers.
We can't rave about the performance of this push cart enough. From being super adjustable to exceptionally manoeuvrable, this is worth
having and can be your next favourite golf pushcart in the ensuing days. Happy Golfing!