Women, like men, deserve a chance to enjoy a fine game of golf. With golf gaining popularity, women all over the world are more than welcome to join their fellows for an entertaining round on the course.
Whether you're a beginner learning the basics of the wonderful game of golfing or you are a professional golfer, having the equipment that suits your play style and preference is a dire need.
Golf is a game all about inclusion: you can play the same clubs, equipment, and courses that the professionals are using. However, finding the one you find can be difficult.
And when it is about golf clubs, it's never as simple as choosing what the professionals choose. It is always best and preferable if you experiment around with what is best for you.
Finding a golf club or a set can much more difficult than a simple Google search, especially with hundreds of options out there.
Being a lady, the choice of equipment gets more diverse as some brands start offering women-exclusive versions of their clubs, making them more attractive than the generic unisex models.
With all these requirements and questions in our minds, it is absolutely important to know what brands are the best when it comes to offering golf clubs that are best suited to golfing ladies
Now, at this point, you are probably wondering that from tens of brands, which one should you choose for yourself?
And that is why, in this article, we are about to enlighten you about the 5 best golf club sets for ladies that are going to bring a revolutionary change in your playstyle and game.

Callaway is renowned as one of the finest brands behind golf equipment and many champions have walked to the hall of fame with Callaway gear behind them.
They have offered a wide range of golf clubs, each created to be used by a different kind of golfer. Likewise, they have created a performing set for ladies as well.
Strata Tour Women's Set was designed to increase performance for women golfers, especially those who wanted to hit better and powerful shots from the tee to the green.
The set has been tuned to offer great forgiveness and performance, both of the skills that are vital to both serious and amateur golfers, especially when they consistently play golf.
The set includes Driver, 3 Wood, 4 & 5 Hybrid, 6-9 Iron, Pitching Wedge and Sand Wedge, Stand Bag, 4 Headcovers, and is available in 4 different versions.
Strata Tour also offers different vibrant colors that can suit the needs and wishes of every female golfer, whether they want to go for the classic pink or try out a golden or teal option.

Cobra has entered the golf industry to create products that enable golfers to reach their true potential, helping them build their game like never before.
Cobra Golf has also prioritized efficient and productive options that offer much more than their worth, making their purchase always a choice that one does not regret.
Women's XL Speed has been created as an incredibly lightweight and comfortable setting that allows great forgiveness and convenience when scoring hits across the course.
It is also created from the finest quality of raw materials and allows equally capable performance both indoors and outdoors, making it a ripe purchase for golfers.
The following clubs are included: Driver, 3,5, 7 Fairway Woods, 5 Hybrid, 6-9 Irons, and Wedges. The set provides all the necessary clubs that a golfer could ever need on any day.
So, if you're looking for an all-rounder golf club set that offers tons of benefits for a great price, you should look no further.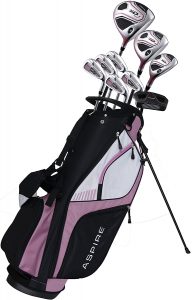 Coming from a brand that is not as well known as Taylormade, Cobra, or other modern options, the XD1 is an excellent option for beginners who are looking for a starter set.
The clubs are made from high-quality graphite that offers excellent performance with a lightweight design for its woods, irons, and driver as well.
These clubs also come in two different varieties, regular and petite, each aimed for a different set of heights. This is especially handy for females who are under 5 foot 7 inches.
The bag and the clubs are incredibly lightweight and comfortable to carry around, saving precious stamina and endurance that can be put into swinging better shots.
The following options are included in this budget set: Driver, fairway wood, hybrid, 6-9 irons, pitching wedge, and putter. The bags come in three different sizes to suit the needs of all golfers.

Precise Golf has promised to provide golfers with "World Class Quality and Service" regardless of where they are, and they have been delivering on their promise.
The M5 Ladies Women's Golf Club Set is no exception, offering excellent performance that has been battle-tested all over the world by hundreds of golfers.
This set has been specially designed for beginners or people who are still on a steep learning curve. They might not be as technologically advanced as the other options but they are quite economical.
The following options are included in the set: Driver, Fairway Woods, Hybrid, 5-9 Irons, Pitching Wedge, Mallet Putter with three matching headcovers.

Callaway, with its excellent selection of clubs and a desire for always creating the best, has deserved another spot on this list for its premium curation.
The Reva has been designed to deliver an ultimate and unbeatable combination of distance and forgiveness that allows golfers to swing with a confidence never experienced before.
At the same time, the Reva has been designed exclusively for women who are looking to hit better shots and enjoy the game like never before.
The following options are included in the set: Driver, 3 Wood, 5,6 Hybrids, 7 through 9 Irons, Pitching and Sand Wedge, Putter, Cart Bag, and 5 Headcovers.
Reva might not be a budget option for most golfers but it has never been a purchase that a golfer has regret.
Final Verdict
Even though it might be easier to just choose what professional golfers choose, it is always important to understand what clubs could offer you the right performance.
As you have seen, not all golf club sets are created equally. Some might offer over ten clubs for a budget price while others might bring a hefty price tag for a smaller number of clubs.
At the same time, the durability and the comfort of the clubs matter as well, especially for women who often find it difficult to carry the extra burden on their shoulders with an unnecessarily heavy golf bag.
If you're looking for a premium choice that provides all the benefits for a reasonable price, either of the options by Callaway, Strata, and Reva, can be an excellent choice for you.
If you want an all-rounder set that couples together with incredible comfort and lightweight to deliver performance, then you should not look further than Cobra Golf Women XL Speed.
While these options can be used by all levels of golfers, for beginners or amateurs, there are numerous other brands that they can try as well.
The Aspire XD1 is a lightweight set with a graphite build, offering customization with different versions of colors and models that suit different heights. However, it only offers right-hand models.
Likewise, Precise M5 is also a fine option for beginners and amateur golfers, especially if they are aiming for a budget option with reasonable features.
However, after due consideration, there needs to be a champion among the best as well, a golf club set that can be considered as one of the most promising and reliable options out there.
And in our eyes, the Callaway Women's Strata Tour 16-Piece Set, for its wide range of clubs and a premium design that never fails to deliver, has surely won the title of being the best among the rest on our list.