The Wilson Complete Youth Golf Profile Set Hand is a no-brainer when it comes to introducing your kids to the world of golf. It is a fine golf set that would allow them to break-in and get well-acquainted to this world.
Named as the best golf set for the youth, all thanks to its spectacular engineering and size, you will find your child scoring aces in no time (obviously at an optimum difficulty).
Wilson golf enjoys an incredible reputation among prestigious golf manufacturers in the world. Their products are of premium quality and absolutely worth the money.
The particular golf set under discussion is no different. It has well-succeeded in impressing its wide range of customers. Let's review this amazing product in detail.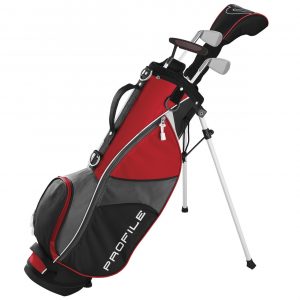 Specifications
| | |
| --- | --- |
| Colors | Red |
| Hand orientation | Right, left |
| Golf club loft | 10.5° |
| Material | Blend |
| Brand | Wilson |
| Golf club flex | Uniflex |
| Size | Small |
The Wilson Complete Youth Golf Profile Set Hand is available in multiple sizes and in a wide assortment of colors to cater to different age groups. This particular one, available in size small as indicated by the red colorway, is best suited for kids within the 5-8 age bracket.
As it is built for beginners who would sensibly not be taking advantage of the technical benefits, it is available in a right or left-handed version and is an ideal choice. To achieve the best performance you paid for, it is recommended for children around the 50-inch height mark.
Engineered with numerous game improvement technologies, these clubs help get the ball airborne ensuring a tremendous first experience for young players to make them fall in love with the beautiful sport.
The clubs are designed for junior length, weight, flex, and grip size and are part of the six-piece set, including a driver, short iron, wedge, putter, bag, and matching headcovers. What more can a beginner ask for? This youth golf set is everything junior golfers need to make teeing off easy fun.
Is This the Right Set for Your Little One?
If you are looking for a purchase, you would first be introduced to a couple of style options—namely the JGI and SGI.
The Junior Game Improvement (JGI)
The Super Game Improvement
For the JGI—These are followed by Small, Medium, and Large to cater to people from different age groups with different dimensions for each to be readily available for any user age.
On the contrary, the SGI is built for adults. The size varies from male to female, paying close attention to each kind of body type. It is recommended to read the product description carefully at the time of purchase to avoid problems afterward. Nobody likes to be stuck in multiple rounds of return and exchange and days passing by waiting for the whole process.
If you are not the kind of person to go through descriptions or they make the purchase much more challenging or confusing, then it should be; Wilson has a complete buying guide ready for you. The guide takes you through the purchase with exact written dimensions and mentions the age and height the particular variant is best suited for.
Since today we focus on JGI Red, as stated already, JGI comes in three size variants; small, medium, and large. This is important to state that with each size variant, you get more options for clubs and drivers in the set. You can say you get some added perks if you ought to be a bit tall or older.
What Will You Get?
The set itself is amazingly lightweight. It came quite as a shock to see that a kid can easily carry it on their back despite the range of clubs in the set, including the bag's weight. The quality of the bag itself was commendable as well. The price point that it is available at makes it totally unbelievable. Honestly, it is a steal!
Speaking of clubs available with the set, the wedge captures our attention the first. Wilson has completely outdone themselves this time.
It was impressive to see a well-built wedge included. If you want your child to have a starting point for practice and get familiar with the game and build up their techniques, wedge practice is the way to go. It is deemed essential for children or even a beginner of any age.
This is all thanks to the weight built into the sole of the wedge. Why does it matter, you ask? The weight in the sole minimizes any kind of out-of-form technique and makes a good swing easier to achieve. This can be termed leniency as the child won't have to focus on their posture or technique during the initial stage. They can just go and have fun.
The driver included in the set cannot be neglected as well. It is simply perfect for a player, specifically a child, just starting. The driver has a good size to it with a wide sweet spot area, which literally drives the child to find the sweet spot gradually but quickly. With a few practice shots, you will find your child hitting a beautiful knock time and time again.
On the other hand, the putter in this set is super beginner-friendly. The putter features markings or guidelines that guide the child to the right spot for contact. A child would be able to pick up the technique quickly thanks to these markings. The light-weighted putter adds to the ease of use and pin point putts.
And last, but not the least—the short-iron. Just like the rest of the bundle, the short iron is the finest you can find in any Youth Sets. The short iron is super sleek and stealthy. It is given a flat heel, which allows children to sneak under the ball and hit a fair shot—a well-built short iron and brilliantly engineered.
Now coming down to what wraps it all up and puts all the things neatly—the bag itself. The bag is well built and features a trivial design. It is made ultra-lightweight and with a backpack kind of strap so that children can carry it around on their small shoulders with ease.
Additionally, you get a headcover for your driver, which is not something wild but is just a cool added touch. The two feet at the back act as firm placeholders and have the right height to it.
Conclusion
To conclude everything that has been stated so far, we have the real question. If you can't already weigh in our review so far, we definitely recommend you to go for the purchase. A definite 10/10 for this ridiculously good bundle and will encourage anyone that receives this gift.
Let's not make the little one long any longer for their first set of golf clubs, and let's make this the perfect birthday or Christmas present for your child.
It offers everything from the end to start, from the ease of use and ultimate forgiveness to vast leverage for techniques. This is something your child would indeed have fun with. We encourage you to have a look at this piece and have your money well spent!