Every day, golf continues to evolve and grow, with millions of young players joining in on the golf courses. Just in America, there are over 24 million regular players with a never-ending supply of fresh players.
However, as most players come fresh, making the right choice regarding your first or next golf equipment is difficultas there are hundreds of products being offered in the markets, each with unique qualities.
One of the most common questions that most golf players have are what club should they go for, what brand should it be, and what qualities does it need to have.
Knowing the right iron to use in any situation is mostly acquired by learning and playing consistently, as each club offers a different experience, performance and delivery based on its structure and composition.
In this article, we will tell you one of the best products being offered on the market when it comes to clubs, taking you with us to explore Callaway Apex 2019 Apex Irons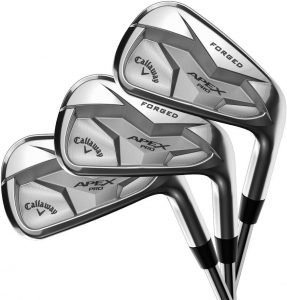 | | |
| --- | --- |
| Colors | Steel |
| Shaft material | Steel, Graphite |
| Hand orientation | Right, left |
| Golf club loft | 15° |
| Brand | Callaway |
| Golf club flex | Stiff, Regular, Extra stiff, X-Stiff |
| Weight | 2.2 pounds |
| Configurations | 3-9 Iron PW ; 4-9 Iron PW ; 4-9 Iron PW AW ; 5-9 Iron PW AW ; 5-9 Iron PW |
Callaway is one of the most prominent and popular golf equipment manufacturers out there, being used by players of all different levels, whether they're amateurs or professionals.
At the same time, Apex has also maintained a deep respect and reputation by golfers all over the world for its premium forged irons that use only the latest technology coupled with sleek looks to enhance your game.
Highlighted features
Ball Speed
Building on the sensational success of the 2016 version of the Callaway Apex Irons that fused players iron looks with exceptional game improvement, forgiveness and massive distance delivery. Forged from 1025 carbon steel with a 360 Face Cup, Callaway Apex 2019 Apex Irons have been designed to provide you with as much ball speed as possiblewith its variable face thickness.
Sound
Callaway has also inserted its proprietary urethane microspheres to greatly dampen vibration when you strive the golf ball, making it the club that not only feels better but sounds better as well.
Sensation and durability
As a slim yet highly solid structure, the Apex 19 smoothly glides over the grass to provide excellent contact with the golf ball, offering excellent and effective shots without any loss of distance, even with mishits. The impact with Apex 19 feels solid, heavy and durable. When you strike the ball perfectly, it gives off a sound that only a premium-grade and well-made iron can provide you with.
Precision and forgiveness
At the same time, with its microsphere technology, the club can absorb all vibrations with extreme precision, making sure that there are no harsh or jarring feelings when you have mishits, unlike other clubs. With the excellent quality of its material, Apex 19 offers a great degree of control coupled with distance and forgiveness, a contrast from other clubs that are often lacking in one domain or the other.
How does this perform?
Materials
Apex 19 also contains a multi-material construction that allows the infusion of Tungsten into each iron, providing optimal shot-making, ball flight, and control for scoring performance through your game.
As both a game improvement and players improvement iron, Apex 19 might be a steep investment, but it is definitely something that pays back with steady and sustained improvement and experience in golf.
New performances
When it comes to reliable performance, Callaway is a brand that has always remained trusted in the eyes and hearts of golfers all over the world, with each model better and more efficient than the previous one.
With its material, it provides a timeless, premium and precision look that allows for better ball speed and control, especially for short irons, providing ample distance as well.
Special shapes
Callaway has also added Spin Control Variable Face Thickness to add spin back to shots which otherwise wouldn't have had enough spin to maintain the proper distance required for a good shot.
Every single piece of the Callaway Apex 2019 is custom-designed for its shape, size, density and location to push the CG lower in longer irons and higher in shorter irons to bring a perfect and harmonious balance.
Distance
Another strong trait of the Callaway Apex 2019 is its consistent distances on centre hits and off-centre hits, possible with the flexible rim around the perimeter of the face of the club.
Yet another trait of the Apex is its premium platinum chrome finish that provides a beautiful and elegant shape and feels and is built with the most premium of components available on the market.
For everyone
Apex irons are offered in a new and exhilarating Smoke finish for those who are preferring to have a distinct and contrasting look to the irons they have placed in their bags.
The looks were designed after extensive input from the best players around the world, taking in their opinions regarding what they want to see in a perfect club, making it a true club designed for the players.
In essence, Callaway Apex 2019 has the potential of being used as a club that can provide for all kinds of shots on the fairway, be they long ones, mid-range or shorter ones, marking yourself as an experienced golfer.
Final Verdict
There are a diverse variety of golf clubs out there, each with their own purpose. Some of them are designed for hitting the distance, while others may be used to either lift the ball high or roll it into the hole. As a beginner, most of the players assume that using what a professional tour player uses might give you better chances of success on any golf course, while that is not often true.
What truly matters is that you find a golf club that not only works ideally for you but helps you fall in love with the art of golfing, where you enjoy each and every shot that you're delivering.
Finding a brand that you can trust is a key element of finding the best golf equipment, and that is why Callaway has remained as one of the most prominent and popular golf equipment manufacturers out there. Not only it has been used by players of all different levels, whether they're amateurs or professionals, but it also continues to build on its success and keep on innovating their technologies more and more.
After innovating the market with the 2016 version of the Callaway Apex, Callaway has brought innovation once again to the golf course with its latest irons that continue to provide looks and performance all in one.
Despite having a steep price tag, they offer one of the most consistent and rewarding performances with exhilarating looks that always stay relevant and exclusive, making it a perfect investment for a golfer. Callaway Apex 2019 Irons combine the best of technology coupled with the advice and opinions of the best players out there to create the final product, a club that is designed to perform no matter where or how it is used.
So, if you're looking for a club that will last you for a long time without growing obsolete or losing its charm, having a Callaway Apex 2019 will be a perfect investment to be added to your golf bag. Happy Golfing!