Enjoying golf is a harmony of having a firm grasp over its technicalities and being good at the game simultaneously. Part of that technicality is the cardinal golf club. There are various types of golf clubs out there, all built for a specific purpose and equally important in the golf bag. Among those, the mini driver is perhaps the most interesting one.
A standard driver which offers the most amount of yardage comes at the cost of accuracy. Whereas the 3-wood, while accurate, compromises on how far you can hit. The mini driver is slotted right between these two.
The mini driver is essentially a beefed-up 3-wood club that is significantly easier to swing with but still offers a great hit that is more potent than a 3-wood because of its larger head.
While the craze surrounding mini drivers has died down since its inception a couple of years prior, they are still a leading choice for many fresh and seasoned golfers alike. In this article, we'll be taking a look at three of the best mini drivers you can buy today to take your golf game to the next level. Either of the following picks are fantastic choices for the right player.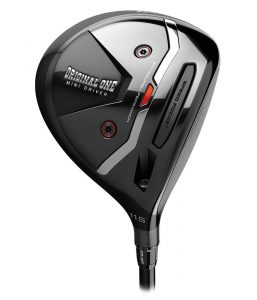 Owned by Adidas, TaylorMade is a renowned name in the industry. They are famous for introducing metal woods in the game, and to this day, their drivers are some of the most reliable golf equipment you can buy.
In 2019, to commemorate the 40th anniversary of the Pittsburgh Persimmon's billing, TaylorMade released their Original One Mini Driver.
The Original One Mini represents the best that TaylorMade has to offer. With all the latest technologies and innovations crammed into a 275CC head, this mini driver helps you tremendously in hitting that perfect shot.
The titanium body makes it feel extremely premium. 50-gram steel is used for the soleplate, and the crown is made from carbon composite, giving it a sleek, industrial look that does not compromise on performance at all.
With the titanium shell, the mini driver maintains a lower center of gravity than most other units and offers better resistance against ball spin, all in all, providing generous yardage with a beautifully straight drive.
This mini driver comes with two different lofts, 11.5 inches, and 13.5 inches, but both are adjustable by 2 inches, either plus or minus, meaning you have 4 degrees of flexibility that put more control in your hand.
Furthermore, the TwistFace technology built into the heel allows you to hit every shot perfectly. The curvature on the heel works to correct those off-center shots and transform them into straight hitters off the tee.
The SpeedPocket technology helps in reducing backspin, so the ball doesn't fly too high or fall too short. The common mis-hit below the club face's center is compensated, resulting in longer and precise distance hits.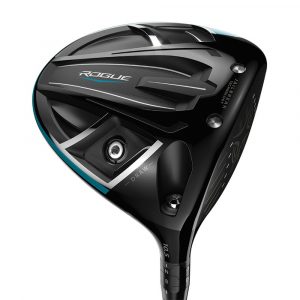 Callaway is a legendary name in the golfing world. People know Callaway for producing the best irons, fairways, and drivers in the business. Their commitment to quality and their incredible portfolio speaks for themselves.
The Rogue Draw mini driver was launched back in 2018 but ever since has topped many lists, including Golf Digest's 2018 Hot List, because of its incredible performance and attractive pricing, making it a great value.
Callaway's Jailbreak Technology has also seen a step up here. Critics and players thought that the Epic driver's implementation of tech was already at its best, but here Callaway has proved everyone wrong in the right way.
Instead of donning the familiar straight bar design, the titanium bars are now in more of an hour-glass shape, distributing weight more evenly.
The improved Variable Face Thickness technology in this mini driver is more forgiving towards hits off-center. The updated X-Face contributes massively towards correcting shots and the common mis-hits.
VTF allows the club's face to be varied in thickness, thinnest towards the edges while thickest in the center with the X-Face manoeuvering the ball right before the hit, helping you produce a straighter shot.
The Rogue mini driver allows you to have absolute control over the ball while providing fantastic speeds. Callaway partnered with Boeing to tailor the pilot so you can achieve those higher swinging speeds with ease.
You can get the Rogue draw in multiple configurations and can even opt for aftermarket shafts. The draw weight comes in 40g, 50g, 60g, and 70g options. The hosel has over 8 lofts and lies combinations to choose from.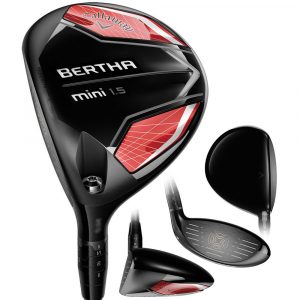 Another Callaway model on our list, and for a good reason. The Bertha Mini was one of the most popular and well-rounded mini drivers when the mini driver craze was at its peak a few years ago. Yet, it still holds up today.
This mini driver comes equipped with a 235CC head, which is bigger than other fairway woods, leading to improved MOI due to its more forgiving nature.
Callaway's Warpid sole makes an appearance here, allowing you to move around the club quickly on rougher turfs and uneven grass fields. The clubhead itself is slightly rounded off as well.
On top of that, for added forgiveness, Forged Hyper Speed has been combined with the Forged Composite present in the crown to cut players some slack by making up for off-center hits.
That Forged Composite material is extremely crucial as it's stronger than titanium but weighs three times less. Its addition to the club ensures that the face can maintain a lower CG for better accuracy.
It comes with the 65g Mitsubishi Kuro Kage Silver TiNi as its stock shaft. The length comes out to 44 inches providing the player with a good middle-line between yardage and control.
For the ultimate amount of personalization, this mini driver is kitted with Callaway's OptiFit Hosel, which comes in 12° and 14° variant and allows adjustment of up to +2° and -1° and two lie angle settings as well.
Unlike the previous two inclusions on this list, this mini driver follows a much more modest and classy aesthetic which offers a glossy black look without any flashy logos, monograms, or lines that make it look "sporty".
Final verdict
What was once the hottest tool in golf is now almost sidelined by the mainstream program, which focuses more on standard clubs than more unique iterations of drivers that suit individual players best.
Both Callaway and TaylorMade have produced iconic mini drivers in the past, but it looks like the future won't be as fruitful. What we have right now is likely what will last for years to come.
Regardless, the mini driver offers an excellent middle-ground between people preferring distance coverage over accuracy and vice-versa. It's the best of both worlds, and it achieves so with little compromise.
The recently launched TaylorMade Original is perfect for golfers fed up with their current drivers. This club can do wonders for you if the swing fits well with you. It's great for hitting both off the tee and even the deck.
This mini driver doesn't compromise significantly on distance and offers supreme accuracy. With a lightweight feel and suppressed sound, it resembles a 3-wood but with more control and precision over the ball.
The next option on the list, Callaway's Draw Rogue, is perfect for mid-handicap golfers who're looking for a club that offers excellent precision, speed, and yardage all in one, all coupled with a stylish build and look.
The bias streamlines the choice for a lot of folks here. Certainly, if your drives are often kissing the right side of the golf course, then the weight will help you tremendously even it out.
The Bertha Mini is an almost chic club. It's for the sophisticated gentlemen who chant for the "good old days". It's meant for a particular niche. It's great for links and other courses that aren't too long.
If you want to swap this in your golf bag, consider that this works best on narrower holes. If the idea of hitting extra par 5s in two indulges you, this certainly would satisfy your needs.